Taekwondo World Champion Bianca Walkden talks to Sportsister
It's been a whirlwind year for Bianca Walkden –  having struggled with injury she came back in great form to win the World Championship taekwondo title in Russia, then it was straight back to training for the European Games in Baku after which she continues training for the World University games. Bianca spoke to Sportsister from the GB Camp in Baku.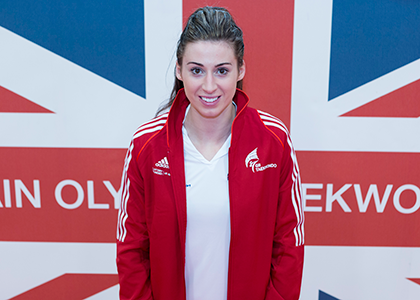 Congratulations on winning the World Champs earlier this year – has it sunk in yet and do you get bragging rights at training?
"No not at all, it really hasn't sunk in. I keep forgetting that I am the Heavyweight Champion of the World, probably because I haven't had time to reflect on winning the title. As soon as I returned from Russia it was fully in to preparation for the European Games in Baku.
Sometimes in training a team mate might say "the Champ is here" which is always nice to hear."
What areas of your training that are you are particularly focusing on at the moment?
"The number one priority in training is working on strengthening my knee, to minimise the risk of any future injury. I am still working on getting my Taekwondo skills back, after my injury lay off, they're getting there but they are not 100%.
I am working hard on strengthening my knee in training. I am fortunate to have a great team behind me and I would particularly like to mention my Strength and Conditioning coaches Duncan French and Rhys Ingram, Physio's Simon Edwards and Lee Herrington, my Coach Paul Green and everyone else at GB Taekwondo for everything that they have done for me and getting me through my rehab."
The European Games in Baku are a new concept – do you enjoy the multi-sport events and meeting all the other athletes?
"I am enjoying Baku. It is great to mix with athletes from other sports. There are nine of us from Team GB sharing a four bed apartment in a block. I share a room with my team mate Jade Jones and there are athletes from Boxing, Table Tennis and Wrestling sharing our apartment, we're all getting on really well."
 Is there a good atmosphere there?
"The games have only just begun, but there is a good atmosphere. It is though a bit quiet as there are many athletes still to arrive. I'm enjoying meeting athletes from other countries and mixing with them in the dining hall and the gym."
Who do you most fear in the run-up to Rio?
"Nobody!"
When does your season finish? Do you get a break or holiday at all?
"The Taekwondo season continues with competition all year round. I will though get a week off after Baku and I am going on a Mediterranean cruise with my boyfriend. Having said that, whilst I am away, I will be training, as I am going to compete in the World University Games in Korea as soon as I return from holiday."
On the day of your contest – how do you prepare? Do you have any rituals? What do you eat?
"It is important for me to stay in the present, to take each bout as it comes and to not look too far ahead. I tend to eat little and often between bouts, I absolutely love bread and I tend to eat sandwiches."
Do you listen to music before a contest? If so, what works for you or what are you listening to right now?
"Yes, I do listen to music for motivation before I fight. I particularly like dance music and the them tune from Rocky!"
If you get a chance to watch any other sport – what would it be?
"I'm a big fan of boxing."
Danielle Sellwood, Sportsister
The Women's Sports Magazine
Bianca has a new website coming soon www.biancawalkden.com and is managed by 17 Sports Management Limited
Select a sport
Find out how to get started, training plans and expert advice.