Rachel Yankey "I think France will be a little bit scared of Eni Aluko"
Sportsister spoke to Rachel Yankey ahead of Englands opening match against France in the Women's World Cup in Canada, read on to find out her views on who to watch and the tournament so far!
On the tournament 
"The crowds have been outstanding so far and the carnival atmosphere is brilliant – Canada are putting on a great show. It was great for them that they won their opening match too, the pressure on the hosts must be enormous and I expect they were incredibly nervous. I think we'll see them play better and better now that that first match is done – it's obviously good for the tournament if they stay in as long as possible!
Germany are looking strong, they are always ones to watch, but it was a shame for the Ivory Coast that the score line was so big (10-0). At this stage of the women's game there will always be a few teams that are only just good enough, but it's important for them to be here. They can learn and go away and improve – it's good for the game generally.
Norway looked great too, they play a quick and exciting game that is good to watch. All-in-all we've already seen some outstanding football and we've only just begun."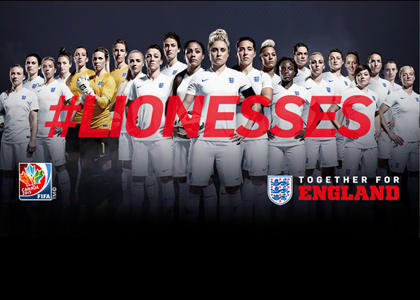 On England V France
"It's a difficult opening match, France are a great side and could potentially go all the way. That said all the pressure is on them as they are expected to win. I know we'll come out fighting and lets just see – it would be amazing to come away with a win – that would really put a marker down for the rest of the teams in the tournament."
We need to respect France though, they are a really strong side and we mustn't be disheartened if we come away with a draw or even a loss, because we can still get through. Whatever the outcome, we need to learn from it for the following games and just keep improving. "
Breakthrough team member
"I think Fran Kirby who plays for Reading in Women's Super League 2 is amazing, she's a fantastic talent. I know she's been injured so whether she is match fit enough to come on for the opening game, I don't know. She'll probably be a super sub, and what a great sub to have!  She is definitely someone that people will sit up and take notice of, her profile is going to change after this tournament for sure.
Chelsea's Eni Aluko is already a big name, but with her pace and trickery she could really shine – I really hope she plays against France because I think they will be a little bit sacred of her!"
On the media coverage so far
"The media coverage especially from the BBC has been great, women's football and women's sport in general has always needed this support from because as much as you do on the pitch, unless the media push it out there then no-one knows.
Obviously we need to play well, the games need to be good and fun to watch. Clearly the further we get, then the more coverage we will get and the media will just get more and more interested. It's a good situation at the moment, but we still need it to get better.
In the long term it's great for the game and over time it will affect how many girls get involved and take up the game – in a few years times we will hopefully have a huge pool of girls playing to pick our team from."
Danielle Sellwood, Sportsister
The Women's Sports Magazine
Rachel Yankey is part of the BBC's 2015 Women's World Cup line-up. Watch England v France tonight from 1730 on BBC Two
Select a sport
Find out how to get started, training plans and expert advice.