Susie Woolf "I'm a racing driver. I want to race."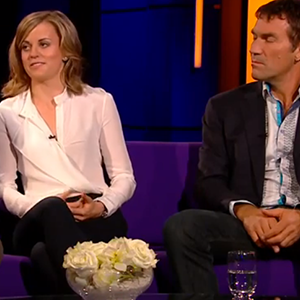 Susie Woolf, test driver for the Williams F1 team, could be the first woman in 40 years to start on the grid of an F1 race. Despite being overlooked as reserve for Williams driver Valtteri Bottas, amid his back problems, this year, she is still focused on one of the rarest opportunities for women in sport*. 
Speaking on the Claire Balding, show which airs tonight on BT sport and friday on BBC 2, Susie opens up about the challenge of being accepted as an equal in one of the final all-male bastions of sport.
"It was a disappointment for sure but I'm not someone who lets my head get down. I still have chances to prove how good I am. I want to start an F1 race.
I'm a racing driver. I want to race.
Just let me do one race that shows I'm capable. I just need that last door to open. Once it's done, once that huge barrier will be knocked down and it won't be such a big thing anymore.
At least she has a powerful ally in Sir Stirling Moss, she tells Clare about how he phoned her up at the height of the controversy in 2013 when he disputed that a woman had the "aptitude" to win a F1 race*."
"I was at the factory in a simulator when it came over the tannoy: 'Susie Wolff to reception'.  I went to reception and they said, 'There's a phone call from you, it's Sir Stirling.  So I picked up the phone and said:
'Sir Stirling, please, before you say anything, I have so much respect for you as a driver and you can have any opinion you want, it doesn't worry me at all'.
He said, 'No, no, no, I meant what I said, I just didn't mean you!'      
She also said: "Every interview I've ever done has been about gender. But I am not the same as other women. We're all different. Your gender should not define who you are. It doesn't define me. If I want to be a racing driver I will. It's what I love doing. I found my passion and I'm following it. My hope is that once I do a race successfully, no-one will ask me about my gender any more."
'Susie Wolff was speaking ahead of her appearance on The Clare Balding Show. To see the full interview watch BT Sport 1 from 8pm on Thursday or on BBC Two at 10pm on Friday.' 
Sportsister
The Women's Sports Magazine
*Lella Lombardi remains the only female F1 driver in history to have a top 6 finish in a World Championship race, the 1975 Spanish Grand Prix.
** Sir Stirling Moss quote in full: "When your life is at risk – I think the strain of that in a competitive situation will tell when you're trying to win. The mental stress I think would be pretty difficult for a lady to deal with in a practical fashion. I just don't think they have the aptitude to win a F1 race."
Select a sport
Find out how to get started, training plans and expert advice.