BMX: Charlotte Green speaks to Sportsister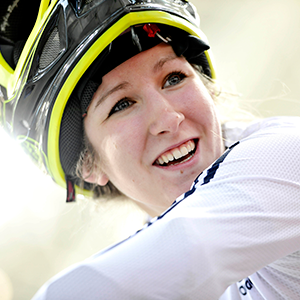 Charlotte Green is currently Britain's best female BMX rider and despite several injury set-backs is looking forward to the World Cup on her home turf in Manchester, April 18-19. Sportsister caught up with Charlotte with just a few weeks to go before the big event.
Charlotte Green should be more well-known, she's currently the UK's best BMX rider but most people are only familiar with Shanaze Reade due to heightened coverage of the sport during the Olympics.
At last years Manchester leg of the World Cup Charlotte reached her first final and this year is aiming to build on that, but this sport is well-known for the crashes and injuries and Charlotte is no exception.
"I am just recovering from a heel injury, it's almost better and I don't really notice it now. I slipped my pedal in training, I was heading down the start ramp, lost my footing and although I recovered in time to make the first jump I landed in the middle of it and slammed my heel. I didn't realise it was damaged at first, but it's ok, that's just BMX really"
Last year, despite the good showing at the Manchester event, was a year also fraught with injury so if it all comes to together this could be a good year for Charlotte.
"I love riding in front of the home crowd, it's so great to have all my family there too – I grew up in the sport, so everyone will be there and I know that the atmosphere will be great"
Charlotte began riding at 4 years old and racing at 5, she has numerous national titles and has achieved a top 10 world placing. Now based in Manchester with the British Cycling academy she has access to the best coaching, physio and training facilities and is hoping to move up to the next level this year.
"Being able to train full-time on this track gives a big advantage, I know it inside out now and there are a couple aspects that I've been able to really nail so I am really ready for the challenge"
Find out more about the event here: bmxsuperx.com
Buy tickets here: www.ticketmaster.co.uk/britishcycling
Danielle Sellwood, Sportsister
The Women's Sports Magazine
Select a sport
Find out how to get started, training plans and expert advice.