Event review: 261 Women's Marathon & 10K
Lisa Jackson (below left) reports on her experience at the 261 Women's Marathon and 10km which takes place in Palma de Majorca and was launched by the inspirational Katherine Switzer (below right). 
The story of the 261 Marathon
Despite a race official attempting to exclude her by ripping off her 261 race number, Kathrine Switzer made history in 1967 when she became the first woman to officially run the Boston Marathon. She made it again in 1984 when she managed to get the women's marathon accepted as an Olympic event. And she did it a third time last year when she launched 261, Europe's first women-only marathon, in Palma de Majorca.
So when I invited all my running friends to join in the fun at 261, PBs and prizes were the last thing on my mind – I was just eager for them to meet Kathrine as it isn't every day that you get the chance to get to know a game-changer. Not only that, but I knew how wonderfully warm and welcoming Kathrine is to all runners – not just the elites – as I'd seen her high-fiving virtually every competitor the previous year. She'd even stayed out in the rain until the last two runners (myself and my injured friend Cecy) shuffled in.
I also knew how wonderfully warm and welcoming Palma de Majorca is: a charming city full of narrow streets and shuttered buildings, it's a balmy 20C at this time of year and, being the off-season, the local bar and restaurant staff are genuinely happy to see you and greet you with a smile like old friends.
Sisters doing it for themselves
Another reason I returned to Palma was the fantastic race itself. With a start and finish line below the awe-inspiring Cathedral of Santa Maria of Palma, one of Europe's largest and prettiest Gothic cathedrals, it features a 10K loop through fields festooned with spring flowers and windmills that also includes an invigorating stretch right next to the shimmering sea, plus three loops through the city centre and marina where swanky shops and superyachts provide interesting distractions.
But it's the people who really make this race: the beaming aid-station volunteers handing out orange segments and gels; the spectators seated at sidewalk cafes that tear themselves away from their tapas to raise a glass of cava to you as you go by, and of course your fellow runners. Since when do even the lead runners take the time to pat you on the back, or shout encouragement on the switchbacks? This sense of sisterhood is something I've never experienced in any race other than Race for Life.
Scooter with a hooter
I had only run three times in the ten weeks preceding the marathon due to an infection, injury and operation, so I found the flat course surprisingly tough. My running friends buoyed up my spirits, however, by shouting 'Looking good!' every time they spotted me in my Mardi Gras outfit complete with a rainbow-coloured bustle (which one of them dubbed 'a bum warmer of a tutu'!) and fabulous flamingo sunglasses. One even crossed the grass reservation every time she spotted me to give me a huge kiss – and a foil-wrapped parcel of jelly babies.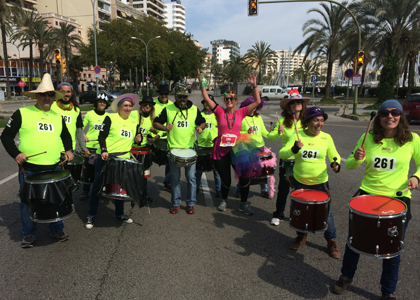 Thankfully during the final 9K I was joined by Mary (below left), an exuberant Australian who'd run the 10K race, stayed on to applaud the marathoners and ended up being my water carrier and personal cheerleader. Mary, together with Jesus, the sweeper on a scooter whose happy hooting had helped me get to the finish last year, made a formidable motivational team (oh, and I simply can't leave out Isabel, the volunteer who stayed out on the course until way past the cut-off time to hand me my final bottle of water!). Eventually, after 6h19, I made it onto the pink carpet at the finish. Here Kathrine was waiting with a huge hug and the unbelievable news that there'd been prizes and PBs aplenty for half of the friends I'd invited along. What a way to end a magical day!
Bad points
– If you're a huge fan of medals you'll be disappointed – there isn't one! But there is a lovely pearl pendant that you can wear every day instead.
– Not keen on switchbacks? Then this isn't the race for you as the last 30K of the marathon comprises three big loops.
– Palma's population is probably still digesting its dinner when the race sets off at 9am (Spaniards are notoriously late eaters), so there aren't that many spectators, but the ones there are give truly heart-warming encouragement.
Good points
– The scenic course includes an uplifting section from the 5K to 10K mark along the Palma promenade with a stunning view of the cathedral and the sweeping bay dotted with seabirds and fishermen.
–  The 'clean-assured' loos are a delight – and even have little pink Post-it notes with inspirational messages stuck inside the doors.
–  You don't have to leave your other half at home! Although the race is billed as a women-only event, men are welcome too just as long as they're accompanied by a woman and finish alongside her.
More info: Next year's 261 Women's Marathon and 10K will take place in spring 2016. For more information and to enter, visit www.261wm.com. I flew to Majorca with Air Europa (www.aireuropa.com) and stayed at the official race hotel, the newly renovated Meliá Palas Atenea Hotel (www.melia.com), where special 261 rates start from just 90 euros for a double room including breakfast.
Lisa Jackson, Sportsister
The Women's Sports Magazine
Select a sport
Find out how to get started, training plans and expert advice.