Nutrition news: Aloe Vera drink
We're all familiar with the Aloe Vera plants beneficial healing properties, but did you know you could drink it too? No, thought not! If the idea of drinking a green, gel-like plant does not appeal then fear not, the Aloe Vera is mixed with grape and lemon juices to create a healthy and refreshing drink.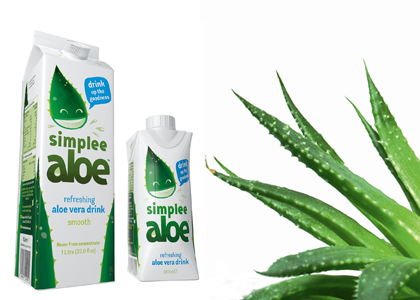 So what's the point?
According to Simplee Aloe, the plant has been drunk around the world since the earliest civilisations and has many beneficial qualities:
Aloe Vera has high levels of antioxidants, which help combat the unstable compounds known as free-radicals, contributing to the aging process.
Anti-inflammatory properties can help treat skin problems such as acne. It is high in polysaccharides, which help macrophages (the white blood cells of your immune system) to fight against viruses.
Aloe Vera is renowned for its cleansing and natural detoxifying properties.
One bottle of Simplee Aloe contains approximately 200 active components including vitamins A, B1,B2,B6, B12, C and E, as well as calcium, magnesium, zinc, iron, selenium, potassium, folic acid and Niacin.
Ok, that all sounds great, but what does it taste like?
Mainly it tastes of white grape juice , so it's fresh and citrussy, but also quite sweet. There's no after taste and no discernible Aloe Vera flavour. So basically, it's a pleasant tasting drink that claims to do you loads of good.
Buy: £1.69 (330ml), £3.50 (1 Litre). Available in Whole Foods, Sainsbury's and Ocado.
Sportsister
The Women's Sports Magazine
Select a sport
Find out how to get started, training plans and expert advice.