Sportsister Loves: Great Base Layers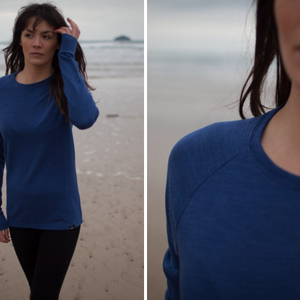 Unless you are living outside of the UK, you will be needing to wrap up warm for your outdoor training sessions/runs/walks right now. Most people understand the concept of layering up these days, but it still hurts to spend more than £20 on a base layer which basically feels like a long-sleeve t-shirt, so is it worth it?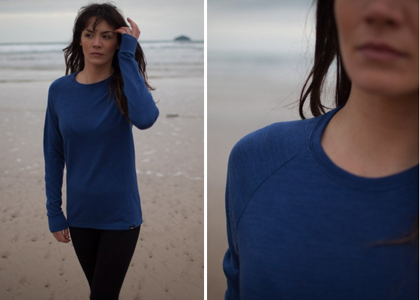 Above: Finisterre Fiske baselayer

The honest answer is yes. The right base layer very quickly becomes a best friend – it's the comfort layer, the bit next to your skin that feels most protective. Of course in the winter it doesn't work on it's own – it needs the mid and outerlayers to be efficient. But then come spring and summer it's the item you reach for on a chilly morning or after training to prevent cooling down too rapidly.
In short it's one of the most versatile items in your kit bag.
Now mainly I am talking about tops here, but during this cold spell, I've also tried leggings (compression ones from Glenmuir 1891) and that's turned out to be more successful that I had anticipated.
What makes a good base layer?
Of course it's down to personal taste, but for us there are two camps:
1. Merino wool, the ultimate wear anytime, any activity, for sport or not, this is a truly versatile fabric with the added advantage of not getting smelly.
2. Compression, polyester/elastane blend that is very firmly aimed at sport, helps hold everything in and supports the muscles during your work-out.
I've been testing both types and I'd be hard-pressed to choose between them. My merino wool version is by Finisterre (pictured above top) and I've pretty much worn it everyday since it arrived. My compression version however is by golf brand Glenmuir 1891 (above) and is my choice for a higher intensity training session.
What details to look for
You might think that a long sleeve top has very minimal detailing and you'd be right, but there are a few essential things to get right:
Length: It needs to be long enough to tuck in well and stay tucked in when bending/riding a bike/stretching. Personally I like a long arm length too, not because I have long arms but because I like to keep my wrists warm and even pull it over my palms if it will reach. Base layer fabric is generally fine enough that it won't become bunchy!
Fit: A compression top needs to fit snugly but that doesn't mean you need to feel like an over-stuffed sausage. Snug, fitted and comfortable is good. A merino version can be slightly less tight, the Finisterre Fiske that I tested is designed for a more relaxed fit, but their classic version the Eddy base layer should be body skimming which personally I prefer.
Neckline: A standard crew neck is the best choice in terms of versatility for year round use. But a turtle neck will keep out the cold better. Think about what you want to use this for and which best suits your needs. I prefer a crew neck and wear a snood or scarf if it's really cold.
Cuffs: Most base layers have no cuff to speak of, so really I am talking about the end of the arm here. My Glenmuir compression top has a simple hemmed end which is fine, some styles have the addition of an extra long sleeve with thumb-hole which I am a big fan of. My Finisterre has neat sweatshirt style cuffs, which I also like.
Finally…
I mentioned earlier that I have also been testing a pair of base layer leggings designed to be worn under golf trousers/ski trousers etc. Glenmuir 1891 sent a pair with the top and I wasn't sure how I would use them for my regular sports, but actually I like them a lot. In fact I like them as a lighter pair of leggings layered with shorts or a skort. I love the fact they come up to my waist which I feel like shouting out loud – hipster leggings just don't cut it in cold weather or indeed if you are not supremely toned. Give me a good compression pair like these any day.
So, save up, wait for the sales, but definitely invest in a good base layer. Consider exactly what your needs are, choose the right one and you will be eternally grateful (and warm).
Product details:
Finisterre Merino wool base layers // From £35 // www.finisterreuk.com
Glenmuir 1891 compression base layers // From £39.95 // www.glenmuir.com
Danielle Sellwood, Sportsister
The Women's Sports Magazine
About Sportsister loves blog
Here at Sportsister we get inundated with news of new products every day so in this blog we will bring you some of our favourites. It's our guide to what's new…..what's good…..what works…..what's worth spending your money on…..what's fun….what's hot….what's special….Enjoy!

TO READ THIS BLOG IN FULL CLICK HERE
Select a sport
Find out how to get started, training plans and expert advice.