View from the red tee: Happy New Year!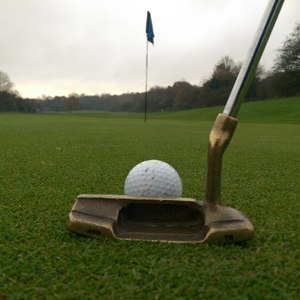 New year, new start! Halfway through 2013 I started to think about taking up a new sport, something sociable and technically different to the running, cycling, swimming activity I usually got up to. So golf it was. However, I stressed over costs, got confused over which clubs to buy, felt unenthused about the idea of heading to a driving range that felt a bit guys-only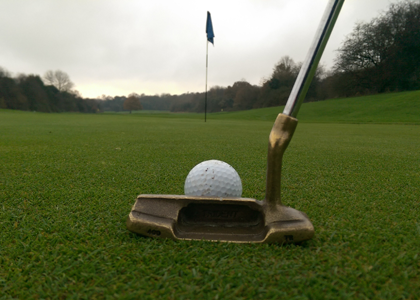 You know what the reality was? I was scared. I knew I wanted a change, to try something new. But, what if I was totally rubbish?! It sounds dramatic but everyone knows how nerves or fear of failure can hold you back, even if just considering taking up a new sport or hobby. Imagine what I am like with more serious decisions!
This time last year, something changed. At the start of 2014, I went all Nike and thought 'just do it'. Having got hold of some very old clubs, I booked on to a free beginners' course and ignored my concerns about being surrounded by experts while being the only novice.
It doesn't matter what sport you choose. Just pick an activity and do it. The physical and emotional benefits of keeping active are well documented, and for me it really is the mental side of participating that clinches it. Sport can keep you fit, but it's the sense of achievement, the sociability, the sheer fun that makes me feel so healthy afterwards. I don't know anyone who walks off after a workout feeling stressed.
Back to golf! Physically, playing just a 9-hole can easily have you walking for two hours at a time. Mentally, learning the technique gives you a buzz when the theory and practice manifest themselves into a cracking shot.
I read somewhere about setting aside financial concerns when planning changes in whatever part of your life. That can be a little hard to manage! Golf does come at a cost but the upside is I do think it is becoming less expensive as clubs and shops realise the need for greater accessibility. Shop around, ask for advice, check online and have a look in random places too. My first set of golf clubs came from a charity shop!
The first time I went to play on a course, I was petrified I was going to look like a fool. Swinging the clubs yet making contact with nothing but turf, spending ages stomping through the rough finding lost balls, generally looking around with an air of ineptitude and bemusement. It was brilliant!
Around me the people playing ranged from experts to those, like me, just starting out. I don't know why I was worried about being on the bottom rung of the ladder. On the first hole, I forced my friend to let a couple of young guys go ahead of us, convinced I would hold them up. There was no need. Turned out they were just as slow as I was! Starting at the bottom is great. From that point, it is a simple fact that you are only going to head in one direction.
Whatever activity you choose, throw yourself into it with gusto. Don't waste any time worrying about how you will look or about the mistakes you will make along the way. A year on from my first golf lesson I am hardly turning professional, but I play with confidence and most of all, have enjoyed a fantastic 12 months learning a new sport. I have been out and about on various golf courses, got to know people practising at the driving range, enjoyed games with friends, and got into the après-golf and social side of it all!
You can follow me on twitter @NeonGolfer as I go through 2015 playing golf and learning more about the game myself. Any questions or suggestions please tweet, and I look forward to writing more for you this year at Sportsister. Happy New Year.
Bobbie Lakhera, Sportsister
The Women's Sports Magazine
Select a sport
Find out how to get started, training plans and expert advice.