Double bronze for Elize Christie In Korea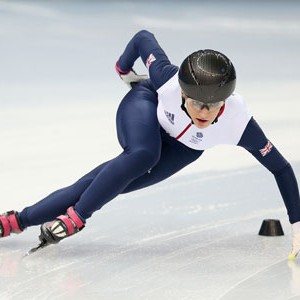 Elise Christie regained her confidence this weekend (19th – 21st December 2014) as she claimed two Bronze medals in the fourth round of the ISU World Cup, in Seoul, Korea.
After breezing through the earlier rounds, and finishing first in both semi finals, the Scottish born skater – who lives and trains in Nottingham – raced her way to third place in the 500m on Saturday (20th December), and then repeated her success in 1000m today (Sunday 21st December).
In the 1000m, Christie came in a split second behind Canada's Marianne St-Gelais in a time of 1minute, 33.45seconds. She finished just ahead of the current World Cup leader in the 1000m distance, Shim Suk Hee of Korea.
She did equally as well in 500m, crossing the finish line just behind China's Fan Kexin and Korea's Jeon Ji-Soo, who took first and second respectively. Russia's Sofia Prosvirnova finished fourth after falling during the first lap.
GB Short Track Performance Director, Stuart Horsepool commented: "Elise battled through the earlier rounds in Seoul this weekend and her place in the finals was very much deserved. I was particularly impressed with her performance in the semi finals, where she skated with grit and really showed us what she is capable of. She raced with much more confidence this weekend, which shows that sending her out to Asia to compete over the last two weekends has been worthwhile.
Sportsister
The Women's Sports Magazine
Next up for the British short track speed skaters is the British Championships at Nottingham's National Ice Centre (NIC) on Saturday 3rd and Sunday 4th January 2015, followed by the ISU International Star Class competition (9th – 11th January), also taking place at Nottingham's NIC.
Tickets are available to purchase for the ISU Star Class competition on Saturday 10th and Sunday 11th January, priced at just £5 each, or £12 for a family ticket (2 adults, 2 children). To buy tickets, go to www.capitalfmarena.com.
Select a sport
Find out how to get started, training plans and expert advice.