Cricket: ECB announces 2015 Women's Ashes Series schedule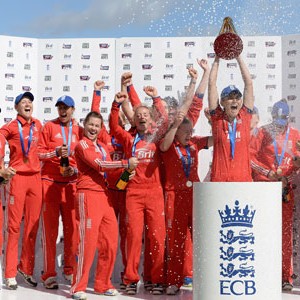 The England and Wales Cricket Board (ECB) today released the schedule for the 2015 Women's Ashes Series and announced that for the first time, Sky Sports will provide live television coverage of every ball in the seven match multi-format contest. BBC Radio will also broadcast all seven Women's Ashes giving the women's series unprecedented coverage.The 2015 Series will be the third time that the Women's Ashes have been contested across all three formats of the game – one Test match, three One-Day Internationals (ODI) and three Twenty20 Internationals.
Next summer's Women's Ashes Series will get underway on July 21 with the first Royal London ODI at the County Ground in Taunton.  The players will then make the short journey across the Somerset-Gloucestershire border for the second Royal London ODI at the Bristol County Ground on July 23, before the third and final 50-over match is played at Worcestershire's New Road on July 26.
Following the Royal London ODIs, Kent and England women's captain, Charlotte Edwards, will get the opportunity to lead England in front of a home crowd during an extended 164th Canterbury Cricket Week, when Kent CCC's Spitfire Ground hosts the single Women's Ashes Kia Test match from Tuesday 11 to Friday 14 August.
The Essex County Ground, the BrightonandHoveJobs.com County Ground and the SWALEC Stadium will stage the three Women's Ashes NatWest T20Is on August 26, 28 and 31, with the third match in Cardiff being played immediately before the men's NatWest T20I between England and Australia.
Prior to the NatWest T20Is, Australia women will travel to Ireland to play a three-match T20I series on August 19, 21 and 22.
ECB's Head of England Women's Cricket, Clare Connor, said: "It has already been a remarkable year of firsts for England women's cricket – the first crop of 18 players to receive professional contracts, alongside a first standalone commercial sponsorship deal with Kia."
"The level of broadcast coverage that the England women's team now gets is exceptional, and I am thrilled that the ECB, in partnership with Sky Sports and BBC Radio, continues to lead the way in this respect within international women's team sport.  It is this level of exposure and support that will ensure that the women's game continues to grow, and that will inspire the next generation of England women's cricketers.
Sportsister
The Women's Sports Magazine
Select a sport
Find out how to get started, training plans and expert advice.