Elise Christie on life after Sochi
Elise Christie went into the Sochi 2014 games as one of TeamGB's big hopes, but things didn't quite go according to plan. So, as Elise begins her four year build-up to the 2018 Games, Sportsister caught up with her to find out how she has put that disappointment behind her and how she goes about preparing for the next phase of training.
Life after Sochi
"One of the most positive things has been taking some time out to do different things and meet new people. As part of my Sky Scholarship programme I joined Will Greenwood the Ex-Rugby player on a 125 bike ride – it was the same course as the first leg of the Tour De France!
I don't cycle as part of my training, so this was my first go on a proper bike with cleats on my shoes, I only had around 4 weeks notice and I spent the first week getting used to riding the bike and a fair bit of that was falling off! But it was great to take my mind away from Sochi and to learn another sport because although it is a similar muscle group it was still a massive challenge.
I did enjoy the experience and it was great spending time with Will. I've met him before and he is a really motivational man, he's been through lows and highs, and come back from the lows so it was interesting to hear his point of view after what happened in Sochi.
I also enjoyed the cycling and I think I might go down to the velodrome at some point and see how that is too – It looks interesting. It would be good to boost my fitness, but it's also good to have something else to do once I finish skating – its' not very easy to keep on skating for fitness so this might be a good alternative."
The best advice that Will gave

"There is a lot, but I think one of the most valuable things he taught me was that I don't have to be fast and strong all the time, and that I shouldn't always train myself into the ground. That's really important mentally as well as physically. There was also a lot to learn as a team and I am hoping he may come down to the rink and share some thoughts there too!"
Training
"As part of the Sky Scholarship scheme I've had the financial support to be able to go and train in Korea and see a different way of doing things. It was a really valuable way to broaden my approach and also useful for the team as I've been able to bring back lots of new ideas.
For me it was so good to see how much harder I could actually train, it's difficult in the UK because there aren't enough girls to push myself against. Training against the men is just not the same because I know they are physically stronger and I know I won't ever have to race them, so it almost doesn't matter if I can beat them or not. Over in Korea I was up against women I will actually compete against – psychologically that makes a big difference.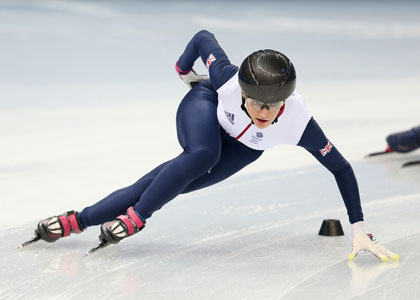 Back in the UK we don't get that much ice time, probably less than almost every other team competing, so we do a lot of strength and conditioning and most of the team run a lot too.
We used to do rollerblading as part of our training but there were quite a lot of accidents with athletes falling on the concrete so we stopped, but now they are talking about bringing it back. Mind-you, I am useless at rollerblading, I don't know why but I just am!
This seasons highlights
Training is going well. I am really tired at the moment, which is good, my training has been very solid, so once I rest up for the competition season I am hoping to be in good form. The main focus this year is the European Championships (Holland) in January and the World Championships (Moscow) in March.
We are hoping to have a big event here in the UK over the next couple of years too, maybe a World Cup event or even the World Championships at some point which would make a great opportunity for people to come and watch some top level skating.
Danielle Sellwood, Sportsister
The Women's Sports Magazine

Elise Christie is supported by the Sky Academy Sports Scholarships scheme, helping 11 young athletes fulfill their potential with tailored support including funding and mentoring. www.skysports.com/scholarships
Select a sport
Find out how to get started, training plans and expert advice.