P.E kits deter hundreds of girls from playing sport
Your school years determine your relationship with sport. Whether we like to admit it or not, our experiences shivering in the rain clutching hockey sticks, or stumbling across frosty fields in cross-country, stay with us well into adulthood. In order to get more young girls choosing sport, and sticking with it beyond their education, it's vital that schools make sport as accessible and enjoyable as possible.
In 2014 you might assume that we'd gone beyond the days of unforgiving gym knickers, pleated skirts and lycra leotards – but many girls still say that unflattering P.E kit is a major barrier for them enjoying sport at school.
Virgin Active, working alongside the Women's Sport and Fitness Foundation (WSFF), have found that 46% of 16-year-olds enjoy being active, but hate their P.E kit, with 48% of girls admitting to skiving classes to avoid wearing them. Over 28% of 16-year-olds feel ugly in their kit, and as a result they'll avoid sport.
It's depressing to think that so many young girls will miss out on the huge range of benefits, fun and experience that sport can bring them, over something as petty as a P.E kit. Only it's not petty. We've all been teenagers and experienced the crippling self-consciousness that makes you want to hide under your covers until your skin clears up, you grow out that ill-judged fringe and you grow into your gangly limbs.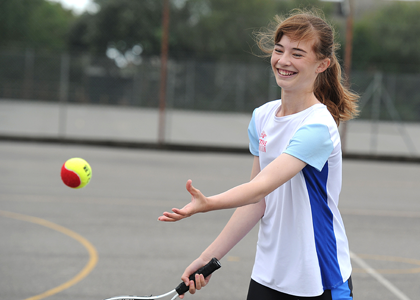 One girl said; 'my .PE kit is uncomfortable and a little bit small – I don't like myself in it. Another commented; 'If you've got something you don't like wearing, or you think doesn't look nice, you don't really want to do any sport in it.' These comments are both entirely valid, and it isn't just youngsters who are put off sport because of clothing issues. Recently it was found that many women avoid sport because of their breasts and not being able to find the right sports bra. I've seen it many times in netball; women wearing leggings under their dresses, playing in tracksuits or being mortified that the stretchy material doesn't cover their bum – things like this can really affect your game.
It's a shame that all women, young and older, are so affected by body consciousness that it can drive them away from sport entirely. The real issue here is that girls should be taught from a young age to love and accept their bodies. But until we reach that stage with the majority of women, a much simpler solution might just do the trick.
Virgin Active and the WSFF teamed up with Lexie Sport to challenge schoolgirls to design their ideal kit. The winning kit, designed by pupil at Isle of Portland Aldridge Community Academy, Emily Marshall, was then created and will be implemented in a number of schools to try and get more girls into sport.
Youth inactivity is a major issue, with 39% of 16-year-old girls never taking any strenuous activity at school. By simply changing the traditional P.E kit, with low-cut V-necked polo shirts, Enid Blyton-esque skirts or the dreaded gym knickers, to more modern leggings, high-necked collars, long tops that cover your bum and dark colours that hide sweat patches, could have a major impact in driving higher engagement with PE in school.
Rob Russell, Head of Campus at Isle of Portland Aldridge Community Academy has committed to acting on the work by pupils at his school, 'As a school we will be acting on these findings to encourage more of the girls to reap the benefits of an active lifestyle. In consultation with parents, we will be looking to amend our uniform rules over the coming months to allow pupils more freedom of choice over their PE kit.' Let's hope even more schools follow suit.
Natalie Morris, Sportsister
The Women's Sport Magazine
Select a sport
Find out how to get started, training plans and expert advice.