Five minutes with Laura Trott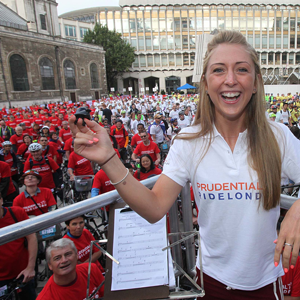 Olympic Track Cycling Champion, Laura Trott has had a busy schedule lately. In between competing at the Commonwealth Games where she won gold in the points race, and being an ambassador at the Prudential RideLondon weekend, she has hardly sat down. Sportsister managed to catch a few minutes with her.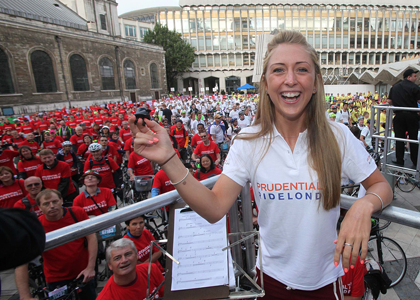 How was Prudential RideLondon for you?
The Prudential Ride London was really good. There was lot going on, and there was stuff for everyone. It was great to see so many kids out. I also had the Prudential RideLondon Grand Prix. My team mate Giorgia Bronzini was here so it was really exciting and quite a tough race with Marianne (Vos) and Lizzie (Armitstead) in it as well. It was a good show for women's racing.
You must have been feeling confident after your success at the Commonwealth Games?
Yes, I guess I went pretty well at the Commonwealth Games. I'm really happy with the way I performed.  The thing is track legs and road legs are slightly different so I was praying that my road legs would come back in time for the race. [Laura was instrumental in helping her team mate, Giorgia Bronzini, to win the Prudential RideLondon Grand Prix]
Where do you get your motivation from, especially at times like in the Commonwealth Games when you fell ill?
I don't know really. Once you've won one race, you just feel like you always want to win, and get that winning feeling. At the Commonwealth Games in particular I had trained so hard up to that competition so it was a bit unfortunate to get an illness at that time.
I hadn't sat around in a Commonwealth Games village being bored for a week and a half and then not race! So I just got out there and performed the best I could. And it worked out in the end – well at least the last race did. [The points race].
And at home?
Jason (Kenny) and I go out training together when we can and we have to get up early if one of us has to go to the gym, so we motivate each other. It's nice to have someone in my life who knows what I go through – someone who goes through the same things as me.  He's always there to help out and I am there for him.
What do you think of the way women's cycle racing has developed recently?
Well, we had the Women's Tour, which was absolutely amazing. That was five days and I've heard rumours that it will grow even bigger. Women's racing really has taken a step forward. Even having a one-day race at the Tour de France was incredible. I don't think anyone had thought it would happen this year. I was gutted not to have been able to race there.  [Laura was competing at the Commonwealth Games at the time of the La Course women's race.] Hopefully I'll be able to race it if they do it again. But yes, women's racing really has taken a giant leap. We see it a lot on the telly now. I think that's what we need as it is really important that we can showcase women's racing.
What does being a Prudential Ride ambassador mean for you?
It's really important for me. At events like the Prudential RideLondon FreeCycle, seeing families out on their bikes with their children is great. For me, I always had Bradley Wiggins and Victoria Pendleton to look up to. Obviously now they're getting a bit older – Vicky has retired. So now I feel like I could inspire the younger generation.
It's really important for me to be able to give back to the sport – give back towards what I was given. It's incredible how many people are here. We actually broke the world record for the biggest bike bell orchestra. There were 600-odd people there all ringing bicycle bells. It was amazing!
What do you do to relax?
I've got my two dogs at home so I like to take them out for walks and stuff  – though my coaches don't like it as we shouldn't be walking around a lot! Otherwise, I just spend sofa evenings in with Jason.
So how do you find life up in the north-west compared with being in London?
I absolutely love it. We are now based in Cheshire, near Knutsford. I wouldn't come back down south now. I really feel at home in Cheshire.  It's just right for me. I live on a country lane from where I can go out and be straight into the lanes for bike rides. We've got fields around us too, which is perfect for the dogs.
Where are your favourite cycle routes?
I like riding around Brickworks. I ride up there quite a lot. I know it's a really well known route in the area, but I like that climb. I also like going to Tatton Park, which is really nice in the summer.
What are your plans for the near future?
I'm going on holiday for 10 days to Jamaica, which I'm excited about. After that I've got the National Track Championships at the end of September. Then Olympic qualification starts at the beginning of next season. It only seems like yesterday when we had the last Olympics! It's all really exciting.
Best of Luck with your races
Maria David, Sportsister
The Women's Sports Magazine
Check out Maria's blog at: www.2wheelchick.blogspot.com
Laura Trott is the Prudential RideLondon ambassador. For more information on this year's event and how to sign up for 2015 please visit Prudentialridelondon.co.uk
Want to watch Laura in action? Laura (along with Marianne Vos) is due to compete in round 1 of the Revolution Track Cycling Series at the Lee Valley Velopark on 24th/25th October.
Select a sport
Find out how to get started, training plans and expert advice.