Natalie Tries: Beach Volleyball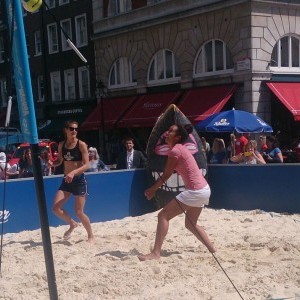 Beach volleyball is so much more than bikinis and beers on the beach. I met up with GB stars Zara Dampney and Lucy Boulton as they showcased this dynamic, technical and surprisingly tricky sport in the heart of London.
Ok so there were bikinis… and beers. But that does not in any way lessen the intensity and athleticism of this fantastic sport, honest. With Fosters Radler as a key sponsor for the GB beach volleyball team the presence of alcohol is unavoidable, but with a packed crowd at the pop-up beach in Covent Garden, I abstained from sampling the tempting lemon-flavoured beer. I needed my wits about me if I was going to try beach volleyball for the first time in front of throngs of tourists.
After two minutes on the sand court I realised that this is a game that takes a hell of a lot of practice. No matter how fit or sporty you may be, there is a real depth of technique needed in order to play this game well. 
I was on a team with Zara, who tried desperately to teach me the basics – I learnt how to hold my hands to hit, to push through my legs to generate power, to dig and spike. But as I smashed the ball indiscriminately into innocent bystanders – elderly tourists with cameras, small children carrying ice creams – I realised that my main concern was spacial awareness, I had absolutely no idea how much power I was putting behind the ball. Something I hope will come with practice.
It's an incredibly enjoyable game, and the vibrant atmosphere of sunshine, lively crowds and sociable teammates is a regular occurrence in the world of beach volleyball. There is also a huge range of benefits:
– Moving on sand is a fantastic leg work out, forces you to engage your core and burns more calories than running on a flat surface.
– The sand makes it low-impact, so it's much kinder to your knees and ankles than netball, running or hockey.
– Hand-eye coordination and mental agility are vital tools to play the game well. With regular practice you'll see a vast improvement.
With young women crying out for more variety in their options for sport, surely beach volleyball is a perfect option to draw in a young and enthusiastic hub of participation.
Zara Dampney certainly thinks so, 'It's a very social sport, and I think people like it because it's a little bit different. If girls feel like they're not very good at netball, gymnastics or hockey — I think it's just another option, and the more options the better.
'Getting the access to it — that's the hardest thing because you do need sand. But you can play indoor volleyball in sports halls; all you need is a net. So I'd love to see the next generation pick it up.'
Zara's point is a valid one — accessibility when you need tons of sand to make the game happen becomes quite complex. This isn't just a case of jumpers for goalposts – the actual logistics of providing sand courts across the country is neither simple nor cheap. 
But Lucy Boulton thinks that events like the one in Covent Garden are the ideal way to give people a taster, 'When you bring something like this into the centre of town it puts our sport on the public's radar. We're bringing a little bit of Australia into the heart of London and obviously we're working alongside Fosters to bring more beach volleyball to the world.'
I have to agree with her. The pop-up event in Covent Garden was a fantastic way to boost awareness of beach volleyball and make sport accessible for people who may have never picked up a ball in their life. Tourists and Londoners alike got to experience a brand new sport first-hand and be inspired as Lucy and Zara showed what the sport is supposed to look like.
Team GB stars Zara Dampney and Lucy Boulton are working with Foster's Radler to campaign for a world with more beach volleyball #GoodCall visit facebook.com/fosters for more information.
Natalie Morris, Sportsister
The Women's Sport Magazine
Select a sport
Find out how to get started, training plans and expert advice.