England United for Rugby World Cup
The 2014 Women's Rugby World Cup is set to kick off on 1 August in France, and Team England is gunning to bring home their second title. We caught up with captain Katy Mclean and lock Joanna McGilchrist to talk training, prep, and team life.
Mclean, McGilchrist, and co. lead a strong England squad looking to buck trends in France. Here's the run-down: England won the World Cup in 1994, but has had a string of second-place luck in the past three finals. Powerhouse New Zealand could win its fifth-straight World Cup title this summer. Australia is also a dangerous contender.
Captain Mclean is optimistic about England's prospects. 'We've being worked hard, very hard', she said. Mclean, 28, took over the captaincy reigns in 2010.
'We've got a really good block of time together as an England squad and it's just making sure we use that. Going into the World Cup in France is massive for us and women's rugby as a whole.'
The road to the World Cup has not been a smooth one. Despite being an international squad, the women's team must contend with the financial pressures brought by chronic under-funding. Players all have other day jobs, which means that for most of the build-up, players were on their own. Daily life included intense individual and separate training programmes, combined with club play and England squad training camps.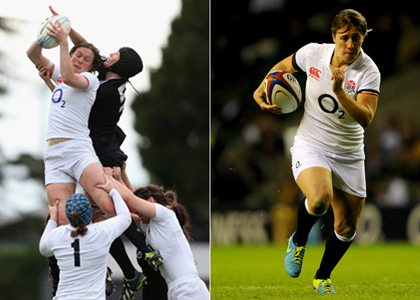 'We take a career break around the World Cup for around three months,' says McGilchrist, who works as a physiotherapist. 'It's good for companies to have athletes working for them, for their profile, to have an international there, especially in the sports industry.' Still, making career sacrifices and balancing full-time work or study with international-standard training and all that goes with it is far from easy.
Whilst the RFU provides the women's national team with high-quality financial and management support, in itself it is not enough to cover all funding realities. The men's team make their livings as full-time rugby players with their club teams, but women's club rugby is not professional.
This does not mean that the women act any less professionally, however. McGilchrist reports that the England camp is 'structured, disciplined, and focused. Lots of meetings, with the team, or we individually meet with our coaches, our Strength & Conditioning coach, physio, other support staff.'
'We would love to go professional– juggling jobs and playing rugby is hard. The RFU are trying really hard to achieve that for us and I'd love to see it in my playing career,' says Mclean.
'Large businesses and large media organsiations need to get involved and it's kind of a self fulfilling prophecy if money is put into the game, the quality rises and then more people want to watch it, and thus more money goes back into it and it keeps snowballing.'
One of the go-to ways to secure this commercial support comes from increased media coverage. It's an uphill struggle, but both players believe support for and coverage of the women's game have improved immensely over the years. The England women play at Twickenham, and games are shown live on Sky and on the BBC. 'Sports channels are starting to really buy into the idea of women's sport. I think that's down to the RFU and everyone involved in women's sport,' Mclean says.
But there is still a long way to go, and indeed saying as much is not news. 'We need more coverage in the papers–it's still lacking in that area. We get a little bit of coverage during World Cups but it's not all the time and we need it all the time. We need change and improvement in the grassroots of the game to improve the quality of the league and to ensure that gets regular coverage as well. It can't just be about internationals throughout the year. We need support at all levels to make it more commercial.'
As she approaches her second World Cup, McGilchrist has a 'if you build it, they will come' vision. She says support is high when people know about the team's tournaments and successes, but often the problem is that people simply don't know what the team is up to or even that it exists at all. 'We need to let people know it's out there', she says. 'Garnering support is in many ways simply about increasing awareness.'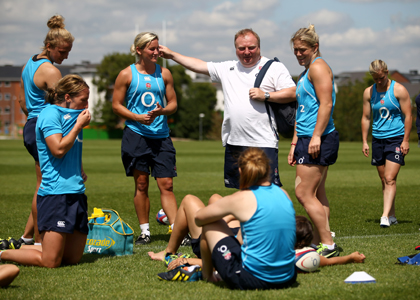 Indeed, the women's rugby community is easy to get behind: these women love their game, love their country, and love playing for each other. 'There are massive bonds. Friendships, friendly rivalries between clubs and players. We work hard on the pitch but also work together to promote women's rugby and women's sport off it.'
For this World Cup, the women's rugby community has already expanded. England men's team have thrown their weight behind their female compatriots. It makes sense: everyone's rooting for the same goal. The World Cup is next month, and England can win it.
The RFU have gotten the media ball rolling– get watching, get supporting, and get ready to  #carrythemhome.
Follow @EnglandRugby on Twitter.
Erin Walters, Sportsister
The Women's Sports Magazine
Select a sport
Find out how to get started, training plans and expert advice.