Getting started: Archery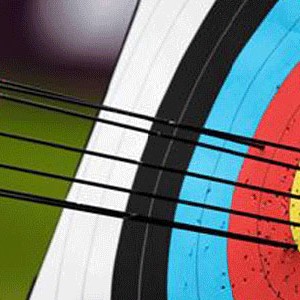 Grace, strength, accuracy. Archery has been hitting headlines and billboards all over the place, from the Hunger Games and Avengers, to Tomb Raider and Brave. The bow might have been given an injection of Hollywood glamour, but the archery scene already has a cult following. One of the oldest sports on the planet, archery has been found in cultures across the globe for use in hunting, war, and sport for tens of thousands of years. The modern game offers a varied slice of sporting action.
The Basics
Archery is pretty simple: it's basically a game of high score wins. Archers will shoot a given number of arrows at a target of a given size and distance, with arrows closer to the centre of the target scoring higher numbers of points.
There are various types of round you can shoot. 'Target' rounds are shot outdoors in summer and indoors in winter, at targets of fixed sizes and at known distances. 'Field' archery is only shot outdoors in the UK, and is shot around a wooded course that will incorporate targets at angles, and at distances and target sizes that may be unknown to the archer. Succeeding in target relies on repetitive accuracy and mental focus, while to shoot field well you'll need to add in the ability to judge distances and adapt to shooting up and down hills.
No matter the target, watching your arrows pile into the middle of it is extremely rewarding.
The Kit
This is where archery comes into its own. No two bows are alike – each archer will pick and choose, mix and match, tweak and tune until their bow is suited to them and them alone.
Recurve bows are currently the only bow type used at the Olympics, and though they might look high-tech, they are a direct evolution from traditional equipment. The recurve archer uses the bow's shape get the power into the arrow, and they have no mechanical assistance in either drawing or releasing the string.
Compound bows, however, feature a 'cam' system, which acts like a pulley and takes some of the weight of the bow at full draw,  meaning the archer doesn't have to hold the bow's full power – which can be up to 60lbs under World Archery competition rules – before releasing it. Compound archers can also use a mechanical release aid, rather than having to hold the string with their fingers as the recurve archer does. Compounds are, as a rule, faster and more accurate than a recurve, and so the competition scores in this division are generally higher.
Longbows have a thriving competition scene too, the traditional bow finding fans among all kinds of archer. The basic design hasn't changed for a few hundred years, and each bow will have an individual look and feel owing to the wood it was made from. You can even commission your own, and have a longbow custom-made for you.
There's a fair amount of banter traded between archers shooting different bow types. A recurve is affectionately called a 'struggle stick' by compound archers, in turn known as 'the dark side'.  However, everyone shoots together so while there's a bit of rivalry going on, different bow types aren't in direct competition with each other.
The Beginning
If that's got you worried you'll need a ton of gear to get started – don't panic!
Check out the Archery GB club finder page to find local clubs in your area. Some will run 'have-a-go' sessions at local fairs or charity events, so you can shoot a fun few arrows to see what it's all about. However, the best way to learn is to take part in a beginners' course. All clubs will run them at some point throughout the year, and they will provide all the equipment for you.
Everything you need to learn will be included in the price of a beginners' course, which varies from club to club. If you decide to carry on after that, the average price of a year's membership to a club is around the £100 mark, which will usually cover access to training facilities, targets, and sometimes the expertise of a club coach. Membership of a club also provides insurance, which means you're eligible to take part in open shoots across the country.
The Benefits
Archery develops upper body and core strength, stamina, focus, and confidence. Since each bow is suited to the archer that shoots it, it can be as low-impact or as intense as you like. The basic shot sequence isn't hard to learn – the challenging part is refining it so you can repeat the motions the same each time you shoot, as that is what guarantees repetitive accuracy. It takes a lot of mental discipline, but the absorbing nature of shooting a bow makes it a great stress reliever.
Archery suits both those who like to compete as individuals and those who like a social side to sport. There are individual, team and mixed team competitions, and all bow types, divisions and ages share the same shooting line.
Archery Life
Eat, sleep, shoot, repeat. If the archery bug gets you, you won't be alone. The archery lifestyle is about making the most of every opportunity, making each shot the best it can be. Each arrow is a clean slate, and many people find archery the ideal way to 'switch off' from everything else.
Archers also find numerous ways of making it personal to them. Finding the perfect bow to fit you is only the start: you can get custom arrow designs, quivers, and chest guards. There are plenty of examples of archery ink and nail art, and quiver candy – good luck charms or other decoration attached to a quiver – that are all personal touches that can be spotted on the circuit.
If you like to travel, then archery lets you take your sport across the world. Las Vegas hosts a huge open tournament at the end of each indoor season, with a huge cash prize pot split between the different categories. It attracts the best archers in the world, but anyone can enter and try their luck – and skill – for the big money.
From a local field to the big money tournaments, archery can be whatever you want it to be. The buzz of watching your arrow hit its mark is addictive, so no matter what bow or type of round you shoot, you'll feel that same thrill of achievement.
Nicola Turner, Sportsister
The Women's Sports Magazine
Want to read more? See how Natalie got on when she tried the sport
Select a sport
Find out how to get started, training plans and expert advice.