Sportsister meets Becky Adlington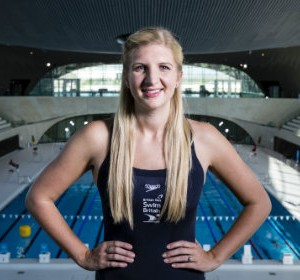 With a study out recently highlighting not only the physical benefits of  swimming – but also the mental benefits, there really is no better time to get involved and reap those benefits yourself.
One woman who knows plenty about the positive impact swimming can have on your life is Becky Adlington.
The double Olympic champion is currently promoting British Gas' SwimBritain campaign, which encourages people to take up swimming with a series of fun, relay events held across the country. "The SwimBritain campaign is great because it give you a little bit of extra motivation," says Becky.
"It pushes me and motivates me – people are often surprised to hear that I need motivation, but I definitely do. Now that I'm not training, I have days when I think – 'god I'm tired' – and I don't have to get into the pool, but knowing I've got this event coming up encourages me to get in the pool and keep my fitness ticking over."
Becky is quick to stress all the benefits that getting in the pool can have. "It [swimming] improves your energy levels, your quality of sleep and everything that goes alongside the physical benefits. A lot of people will think – ' how can exercising give you more energy?' – but it definitely does. If I feel lethargic I know that if I do some exercise I'll feel so much better about myself." 
So having retired form competitive swimming in 2013, following a career which included two Olympic gold medals, two Olympic bronze medals, two World titles, a European title and two Commonwealth gold medals, did Becky find it difficult to find the motivation to keep exercising?
"Yes definitely," she says. "I found it really difficult after retiring, especially for the first six months because I just wanted to chill and initially I just didn't want to do any exercise, my body was still sore and crying out for a rest," she explains.
"I think you have to go through that period and I think mentally you have to switch off from competitive sport and step away from it. For me it kind of slowly crept up on me that I really wanted to get back in the pool, I wanted to do some sort of exercise and I felt unfit and unhealthy. It wasn't about weight, or being untoned or anything like that, I just didn't feel good about myself and definitely now two years on I'm a lot more active."
Exercise and swimming no doubt provide huge benefits for women, they can also help promote a positive body image for young girls in particular, something Becky has spoken candidly about in the past. It's something she feels is changing post London 2012. "That's one thing that London 2012 did such a good job of – providing role models for young girls," she says. "I remember seeing Jess Ennis on the front of a magazine and she looked so strong and athletic, and it was brilliant.
"At London 2012 we saw loads of women achieving success whilst also looking healthy and strong. I definitely think perceptions have changed and a lot more girls aren't scared of trying out new sports now which is amazing."
Whilst there is no doubt that great strides have been made regarding the representation of sportswomen and women's sport, Becky is under no illusions that there is still a long way to go.
"It's crucial to make women's sport and female athletes more visible- let's ensure that young girls can actually see these amazing role models.
I think it's also crucial to make sport accessible for girls and women, whether that's having women only gyms or classes, or ensuring that changing rooms at pools have hairdryers and straighteners, anything that makes playing sport more attractive to girls."
With the Commonwealth Games fast approaching, Becky will be taking her place in the commentary box for the swimming events, alongside Clare Balding and Mark Foster.
"I really enjoy the commentating, I feel like I can give a different insight to the event," she explains. "Obviously you can talk about the tactics and the technical side of the events, but it's also nice to give that personal spin on it. I know quite a lot about those who are swimming, so hopefully I can pass that knowledge on to the viewers and give an insight from an athlete's perspective."
With a number of her former teammates and rivals excitedly preparing for the games, has Becky been tempted to consider coming out of retirement? "Definitely not! I'm really looking forward to commentating and enjoying the atmosphere. This will be the first time I get to actually go to an opening ceremony at a big championship , as I've always had to miss them before because I was swimming the day after them, so I'm really looking forward to that.
"After seeing how the whole country got behind the athletes in London, if Glasgow can replicate just 1% of the atmosphere from London it's going to be a massive success." 
Beth Shine, Sportsister
The Women's Sport Magazine
Rebecca Adlington is taking part in British Gas SwimBritain this summer, a campaign to create a healthier nation and get more people swimming more regularly. To find out more about venues and sign up, go to swimbritain.co.uk
Select a sport
Find out how to get started, training plans and expert advice.