Event Review: The Tweed Run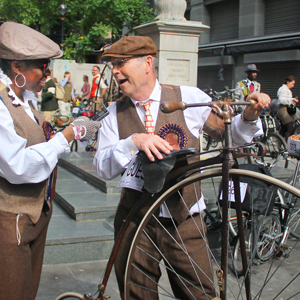 It's not every day that you get to ride your bicycle with 499 of the most dapper looking folks in London, and take a refreshment stop with them involving tea served in china cups at the Guildhall. I was fortunate enough to do just that when I took part in the London Tweed Run. Fortunate I say, because this year the 500 entries available for this event were snapped up within 90 seconds, leaving many would-be participants disappointed.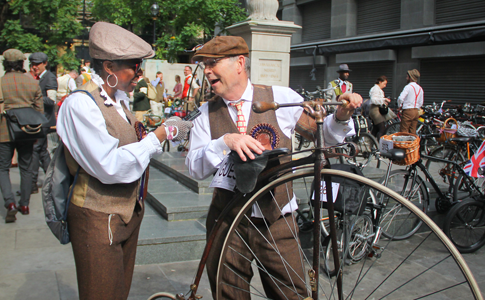 Above: Our roving reporter Maria David talks Penny Farthings!
This metropolitan bicycle ride with style began in 2009 when the founder and organiser, Ted Young-Ing, coming across a pair of plus fours wanted to find a way of combining his passions for vintage clothing and cycling. That was the birth of the Tweed Run, which, over the last six years has become an annual rendez-vous with British eccentricity that many want to be part of!
So, at 10am we all congregated in the courtyard of Somerset House sporting our tweeds of various shades of green, blue, greys and brown. Many ladies were in 1920s style dresses, chignon hairdos and bright red lipstick, while the men were sporting flat caps, cravates, bowties, plus fours, breeches and waistcoats.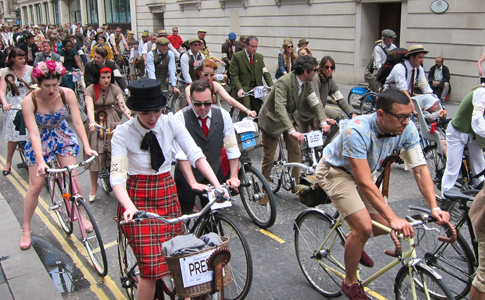 As well as rising to the occasion in the fashion department participants had managed to find period bikes. Pashley bikes were very much on the agenda, as well as Dutch style bicycles, some of which were designed for carrying young children, and old fashioned tandems. There were even a few Penny Farthings, with one guy courageous enough to ride his Penny which dated back to 1872! Riding a vintage bicycle was not a hard and fast rule, since some people rode modern messenger bikes and there were a few Boris Bikes from circa 2010! My own bicycle was a lovely classic style bicycle, a Raleigh Cameo, though this only dated back to the start of this year!
After the "class photo" in the square, we rolled out on our merry way through London to the tinkle of bells. The route took us past all the most famous landmarks in London – St Paul's Cathedral, Monument, The South Bank, Westmiminster, Buckingham Palace, Soho, The British Museum, Russell Square and ended in Clerkenwell where we were treated to a post-ride party with Champagne.
Our jaunt through London was done very much in the spirit of politeness and goodwill, with dapper marshals at the various junctions to manage the rolling road closures, townspeople and tourists cheering us on and applauding from the side of the road as we paraded through the streets.
Our bike ride was by no means strenuous, since the 10-mile route was covered in around five hours and that included an extended tea break at the Guildhall and a picnic stop at Russell Square, complete with 1920s music DJ and a game of croquet. Yes, this bicycle ride allowed for lots of socialising among participants and brought out the best of human nature when cycling around London.
There will be another edition of the London Tweed Run in the spring of next year. If you can't wait until then there are other Tweed Run events around the world – Vancouver, Tokyo, and Seoul, all take place this autumn. The New York Tweed Run is in the spring.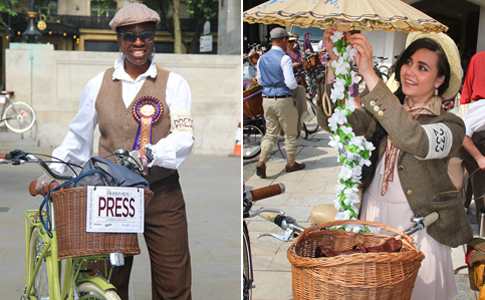 Good points
Rolling closures on roads, separating riders from traffic
Friendly atmosphere among riders and marshals
Anyone can do this ride – no training is needed, just vintage clothing!
Bad points
So many more people want to ride the Tweed Run than there are places available! You need to be superquick to bag an entry.
A couple of bottlenecks when the route passed through narrow streets in the City and the South Bank
Conclusion:
This is definitely an event to do at least once, if only for that surreal experience of riding around London smartly dressed at a leisurely pace with passers-by and other road users cheering you on in your resplendent tweeds! Mind you, from the feedback, those who ride this event for the first time end up doing the Tweed Run year after year! It is good value for money and a good opportunity to mix fashion and bike riding. Tally-ho!"
Maria David, Sportsister
The Women's Sports Magazine
All pictures courtesy of Aodan Higgins
About Sisters in the saddle blog
Cycling, riding, peddling, fixed or free. What's new, what's old, what works, what doesn't, what we're loving, events, competitions, adventures. In a nutshell this space is about two wheels and what you can do with them.

TO READ THIS BLOG IN FULL CLICK HERE
Select a sport
Find out how to get started, training plans and expert advice.