From Land's End to John O'Groats in a straight line: Sportsister chats to Tori James
The route from Land's End to John O'Groats is a well travelled one. However a group of four impressive individuals are doing it slightly differently.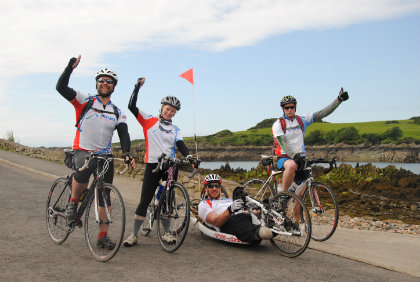 Tori James, Ian O'Grady, Nick Beighton and Adam Harmer form the Beeline Britain team that are aiming to make their way from Land's End to John O'Groats, in a straight line – as the crow flies (Click here to see the route).
The route will take them through some of the most extreme coastal, mountain and urban environments, in sea kayak, on bike and on foot. We caught up with Tori James (the youngest British woman ever to scale Everest by the way) mid-challenge and she told us that, luckily, it is all going well.
"It's going better than we could ever had imagined," she says. "We were blessed with beautiful weather conditions on the 17th May, so we were able to complete that kayak crossing and we set a new record – we're the first people ever to kayak from Land's End to Pembrokeshire which is the longest open sea kayak crossing in UK waters!"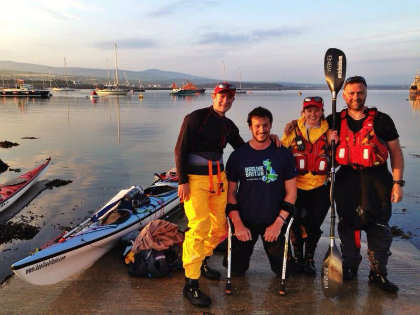 It's an impressive feat, and Tori explains that it was the multi-discipline element which really attracted her to the challenge.
"The multi-discipline element was a huge draw for me, I love maps – I'm a geographer by degree – and you've only got to draw that straight line between those two points on a map and you can see the route so clearly.
"To see that it goes over the sea, it goes over mountains and it goes over roads, that for me is my dream challenge so when I was asked, (and like all good ideas it was dreamt up over a few pints in the pub), I couldn't say no!"
Despite having a love for adventure challenges – previously scaling Everest, completing the polar challenge and also cycling across New Zealand, Tori admits that she was apprehensive taking on this challenge. "I'm not a water lover at all, I'm much more of a mountain girl and I have to say for the last 12 months I've been pretty apprehensive about the kayaking, because for the first leg we would be kayaking 200km which is virtually unheard of. I did think: 'have I bitten off more than I can chew this time?'"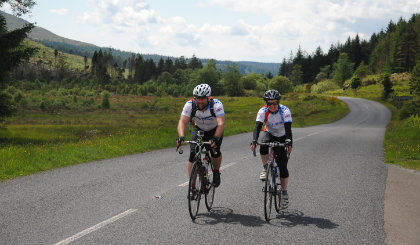 Tori also suffered from something that could have scuppered her plans early on. Seasickness.  "I knew straight away that I get very badly seasick, so one of the things that I've had to overcome in the last 12 months is seasickness, and I've done that in a variety of ways.
"I've taken some preventative anti-sickness medication but also have been overcoming it through the mind, using visualisation techniques to imagine myself only being successful and sickness isn't part of that. It's been a challenging journey, but I'm comparing it to other challenging events I've done and in this one we have a shower every night and we've had a bed – it's a far cry from being 6,000 feet up the side of mount Everest."
The team are raising money for BLESEMA (British Limbless Service-Men's Association), a charity that provides rehabilitation, support and care to the men and women who lost limbs, or use thereof as a result of serving their country. It's a cause close to the team's heart as one of their members, Nick Beighton lost both his legs in 2009 whilst serving in Afghanistan.
"Nick is hugely inspirational, he doesn't moan, his glass is always half full, he always always sees the positive side of things," says Tori.
"It was really important to get the dynamic of the team right. We all bring different strengths, Adam is a professional outdoor instructor and he's very experienced at tidal planning and navigation; Ian is a professional kayaker, white water raft guide and climbing and mountaineering instructor."
So what is Tori's role in the team?
"The guys will probably joke that they recruited me because I'm 'Miss Organised' and always have a post-it note stuck somewhere!
Seriously though, I think they recruited me because they thought if I've climbed Everest and done the polar challenge I would probably have the mental toughness to just get on and do the challenge."
Mental toughness, and a love for adventure is certainly something Tori has in spades. She credits her upbringing, and the Girl Guides with first sparking her love of the great outdoors and adventure. "I grew up on a farm in West Wales and it enabled me to develop a real love of the outdoors and the countryside," she says.
"Two organisations really got me into adventure and that was the Girls Guides and the Duke of Edinburgh. It wasn't my parents that took me camping, it was the Girl Guides. My first alpine experience and going to Switzerland was also with the Girl Guides, and then I did the Duke of Edinburgh awards throughout school.
"What that taught me was there is so much to be gained from making a journey and doing something that is completed by human effort alone."
Tori's words of wisdom to anyone thinking of taking on a challenge, be it tackling your first 5k, climbing a mountain, or even contemplating taking on a Land's End to John O'Groats yourself, is to have a goal, and to try and go beyond that.
"I'm a real believer that we can all achieve more that we think we can, and I would say to people set yourself a goal, but then push yourself that little bit further and you will surprise yourself. Try a 10k instead of a 5k and see what you can do."
Tori also recommends having a diary and sorting out all your commitments, before deciding on what event to tackle. So having tackled Everest, the polar challenge, and now on track to be part of the first team to travel from Land's End to John O'Groats as the crow flies, what is next for Tori?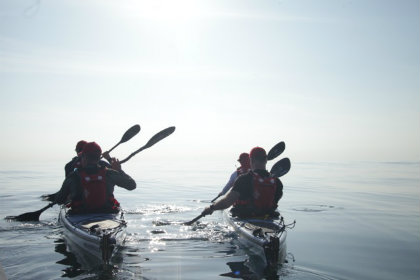 "I haven't really thought beyond the finish line at John O'Groats but there will definitely be another challenge for me," she says. "It seems that every two or three years I have to do something big and I'm sure I'll find something to do!" With such a love for adventure and a challenge, and a busy part-time job, does she ever just chill, and if so, how?
"I do just chill out sometimes, believe it or not!" she laughs. "I love cooking, and I love baking – sometimes the bakes are healthy, sometimes not – (apparently one of the favourite bakes in the team are 'Banana GoGos', a flapjack made from oats, bananas and dates). Despite the fact I love all these crazy adventure challenges sometimes I love nothing more than a bit of shopping and a bit of pampering!"
And, when Tori and the rest of the crew get to John O'Groats we think that a bit of pampering, and a Banana GoGo or two are definitely in order!
You can stay up to date with The Beeline Britain team's progress on www.BeelineBritain.com or on twitter and Facebook. To donate visit www.justgiving.com/beelinebritain or text LINE59 with the amount you want to donate to 70070.
Beth Shine, Sportsister
The Women's Sport Magazine
Select a sport
Find out how to get started, training plans and expert advice.