Jessica Ennis-Hill: "My pregnancy has given me new motivation"
Earlier this year Britain's golden girl of the London 2012 Olympics Jessica Ennis-Hill revealed she was pregnant with her first child.
The 28-year-old's announcement will mean she will miss this summer's Commonwealth Games, however don't fear, as she has every intention of returning to the track after her pregnancy to assert her dominance over the heptathlon, (or the hurdles), once more.
Sportsister caught up with Jess at the launch of the new Vitality Run series. In partnership with Pru Health, the series is an annual event consisting of eight of the countries' best half marathons, and one 10k.
"The nice thing about the run series is that it gives you a goal, something to focus on and work towards," says Jess. "It's hard to train when you're just training for nothing, so it's crucial to have a goal. You've got to find ways of making it enjoyable, whether that's training with friends, doing classes or just having a good playlist."
Having a goal to work towards is a familiar prospect for Jess. First it was Olympic gold, and now it is the new challenge of being a mum. "My priorities have definitely changed," she says. She is so used to having full control over her body through a strict diet and exercise regime, that she admits that seeing her body change has been strange.
"It was weird at first because you're body is changing and you can't control it," she explains.
"But I'm really enjoying it and I'll hopefully continue to have a nice, healthy pregnancy. It's such a special time you've really got to cherish it and make the most of it, especially when it's your first child as you'll never get that time back."
And it's hardly like she's been slouching throughout her pregnancy. Due to give birth in July, she has been remaining active, undertaking low-level training.
"It's obviously not training like I would normally do, everything has been quite low impact and it's just been about keeping my fitness ticking over," she says. "It's been strange because I'm so used to pushing myself to the limit, but obviously being pregnant I can't do that, but my main focus has been having a healthy pregnancy and keeping active for me and the baby." 
As well as low-impact training, Jess has also been doing a lot of yoga, something that has been helping her prepare for the upcoming birth.
"I love it," she says, "I was doing yoga in the lead up to the Olympics and its a really nice way to switch off and relax. There's also been a bit of meditation going on with breathing exercises that could come in useful!"
With the focus very much on enjoying her pregnancy, and spending time with her baby when he or she arrives, Jess has not set a fixed date on when she would like to return to competition. "I've got a rough idea and I'm thinking about the end of the year, but at the same time I know that when the baby comes and I'm not getting much sleep it's going to be difficult and I may have to rethink. 
"There's going to be those sessions when you're training really hard, your body is in pieces and then you've got to train again, add into that a baby and sleep deprivation, and it is going to be tough! So I want to give myself some time once the baby is here to just enjoy being a mum, and then I'll start thinking about getting back into being an athlete."
Juggling being a mum, with being a full-time athlete is something that Jess is aware is going to be a challenge. "Everything changes because it's no longer just you, you're going to have that little person with you all the time and you have to be so organised to fit everything in.
"I have spoken to various people and other athletes who have gone through it and come back, and it's good to take advice, but at the same time it's good for me to go on this journey myself and it's just about making my own way back."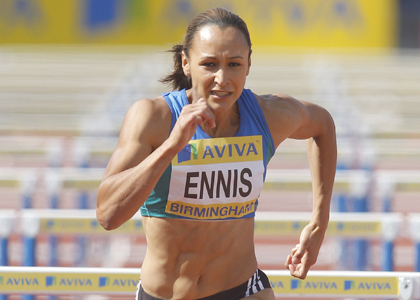 With the athletics season underway, and athletes honing their preparations for the Commonwealths in Glasgow and the European Championships, have Jess' competitive instincts kicked in, and is she pining for the track?
"When I see all the other athletes competing it does make me miss it a little bit, and I do wonder what results I could be getting," she says. "But then at the same time I don't want to be ungrateful and think, 'oh I wish I was there', because I don't want my baby to hear me thinking that!
"It's a weird situation and I am looking forward to getting back competing and I've still got that competitive drive, but this year it's been nice to just kick my feet back and enjoy my pregnancy."
With more and more female athletes returning to competition after pregnancy, and performing better than ever, (Paula Radcliffe and Jo Pavey to name a few), does Jess believe that she can come back from pregnancy stronger?
"I've read lots of different things and doctors that have worked with me have given me papers on how pregnancy can help you once you come back, but it varies with what event you do," she explains. "I do think it could give me an added mental toughness though."
Whether she comes back to compete in either the heptathlon, or the hurdles at Rio is still undecided, (she says she is aiming for the heptathlon, but it is "nice to have the hurdles there as an option").
However one thing that is definitely not in question is her motivation.
"I found it hard initially after London and last year, having my ankle problem was really frustrating too – my motivation was all over the place. But the baby has given me much more of a focus."
Jess was speaking at the launch of the Vitality Run Series. For more information visit www.vitalityrunseries.com
Beth Shine, Sportsister,
The Women's Sports Magazine
Select a sport
Find out how to get started, training plans and expert advice.