#takeonachallenge Blog: To the Tower!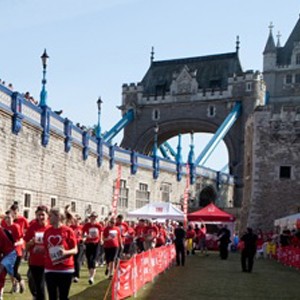 With my knee healing fairly well, I am quite positive that I will be able to take on my next planned challenge on 7th May. I am quite excited about this unique running challenge, which is a 10k race around the moats of the Tower of London!
One of the London's oldest running events and back for its 37th year, the Tower of London Run gives participants the unique opportunity to actually run in the Tower's moats and see this historic landmark from a completely different view.
Participants can choose to run, jog or walk either 5K or 10K distances. They are also actively encouraged to take on this incredible event with friends, family or colleagues.
The route lap is 1km, all on grass, and over a mainly flat course – so hopefully will be kinder to my knee than a road race!
Taking the event organisers' advise on board, I shall be taking this challenge on with all of the above: friends, colleagues, and also my brother with whom I try and do most of my challenges with. So why don't you join us and #takeonachallenge with a historic twist? Go on…you know you want to!
Clarissa inspires others to #takeonachallenge
Off the back of completing 'My Year of Ultimate Challenges' follow me as I attempt to take on bigger and more enduring challenges from abseiling, cycling, stand up paddle boarding and swimming to desert races, mountain treks, adventure and obstacles races….with as much variety as possible! I'm doing this in the hope to encourage girls and women to #takeonachallenge, get active and have fun whilst raising money for the Go Sisters World Series which aims to promote female participation and empowerment of girls through sport across the globe. I am also doing all of this in the memory of my father who inspired and made me the sport fanatic I am; and raising money for The Guide Dogs for the Blind Association in his honour. Follow my journey through the highs and lows of my training, reviews of the events I partake in, and be part of this fulfilling journey of discovering how hard we really can push ourselves!
TO READ THIS BLOG IN FULL CLICK HERE
Select a sport
Find out how to get started, training plans and expert advice.