FA WSL Preview: London Bees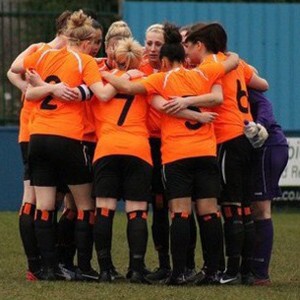 A brand new team with a brand new ethos, the Bees were launched to much fanfare this January. The squad boasts that it is 'the only professional team with a London name' and has already inked 'the biggest sponsorship deal in women's football' with an educational partnership with Stanmore College. In their inaugural season, the Bees team will look to reflect this gung-ho on the scoreboard.
Head Coach: Tom Donati
Home Field: The Hive
Twitter: @LondonBees
Kickoff
The London Bees have ties to Barnet FC and The Hive, and are intended to be a modern manifestation of North London's female football tradition. They have youth, energy, and vibrancy– how far will this get them in WSL2?
Offside/Onside
What might be a bit off, and what is looking on, for the Bees this season?
Offside: The public doesn't really know what to expect of the London Bees this year, and it's not altogether clear that the team is confident with any degree of consistency either. The air of unpredictability surrounding the Bees is exciting, but it is also somewhat unsettling.
Offside: The Bees players have never played together until recently… a few weeks, in the case of a few signings. Tom Donati was only named Head Coach in early April. Is this a case of too much, too late? The Bees will have to work very hard to form chemistry and get through whatever growing pains might come their way.
Onside: The Bees certainly have a progressive team of management and executives behind them– a club of this nature would not exist otherwise. If they can keep the focus on the players and football development and not get too caught up in the hype, this could mean a lot of progress not just for the Bees but for women's football in general.
Onside: There are a lot of people who want the Bees to succeed. The management, the players, the partners–they all believe in a cause and have a point to prove. And there's nothing more powerful than a team that thinks it can win…
Players to Watch
Anneka Nuttall joins the Bees from Chesham United, where she was top scorer and Players' Player of the Year in 2012-13. Nuttall's ability to support her teammates were reflected in that award and will be invaluable this season.
Goalkeeper Sophie Harris will be looking to put a tough 2013 behind her, and the Bees give her a fresh start. Injuries and bereavement plagued her last year, but the talented keeper could become a powerful mainstay in North London this year.
FA WSL Fact 
The Bees' new partnership will offer work and educational opportunities to students at Stanmore College. Students have already made their mark, designing the team's crest and kit.
Get tickets or catch the London Bees live on FATV.
Next up: Oxford United Women
Erin Walters, Sportsister
The Women's Sport Magazine
Picture credits: Lois Bell, London Bees, FAWSL
Select a sport
Find out how to get started, training plans and expert advice.