Sisters In The Saddle: British Cycling and The FA join forces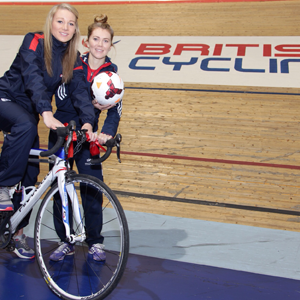 Now this is a great idea – British Cycling and the Football Association (FA) have joined forces to get more women involved in their respective sports. So, how's this going to work I hear you ask!
Well, the project is called Kick Start Your Ride and is an initiative from the two governing bodies to encourage more women to cycle to matches.  It includes organising guided Breeze bike rides for women heading off to watch England Women's World Cup qualifiers, FA Women's Super League (WSL) matches and The FA Women's Cup Final.
Naturally they've used some of the stars from both the GB Cycling Team and England football in the form of Jess Varnish, Vicky Williamson, Gemma Bonner and Fara Williams to help promote the idea.

Olympian and Breeze Ambassador, Jess Varnish, said: "It's easy to get into a routine of getting in the car to drive to events like football matches. However, we want to see more women try something different by getting on a bike to ride to the games. Breeze rides are led rides with other women and so they are the ideal way to build confidence and are a great way of socialising."
England star Fara Williams, said: "I've always enjoyed cycling since I was young, so I'm really pleased to see an initiative like this being launched around women's football.  We see lots of families at England and WSL games so it'd be great if some of them can travel down on bikes together to the Montenegro game in Brighton next weekend."
The initiative will begin at England's next FIFA Women's World Cup 2015 qualifier against Montenegro and will be continued at a local level through the 18 FA WSL clubs, throughout the upcoming season. Check out www.breezebikerides.com for more information.
Want to join in? first up you need a ticket to the match so click here for info.
Scheduled rides
– 5 April – England v Montenegro – FIFA Women's World Cup 2015 qualifier (AMEX Community Stadium, Brighton)
– 1 June – FA Women's Cup Final (stadiummk, Milton Keynes)
– Rides to and from the Women's Super League matches (details to be confirmed).
Danielle Sellwood, Sportsister
The Women's Sports Magazine
About Sisters in the saddle blog
Cycling, riding, peddling, fixed or free. What's new, what's old, what works, what doesn't, what we're loving, events, competitions, adventures. In a nutshell this space is about two wheels and what you can do with them.

TO READ THIS BLOG IN FULL CLICK HERE
Select a sport
Find out how to get started, training plans and expert advice.