Rachel Atherton crowned BT Sport Action Woman of the Year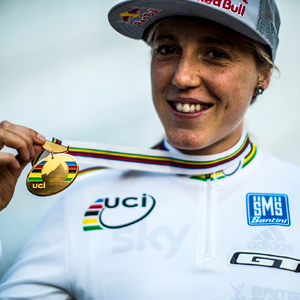 Rachel Atherton, the dominant force in Women's Downhill Mountain Biking has won the inaugural BT Sport Action Woman of the Year award.
Atherton was announced as the winner of the award, which celebrated women who gave the most dynamic sporting performances of 2013, on the Clare Balding Show on Saturday following a public vote.
Atherton had a fantastic 2013 where she became the Women's Downhill Mountain Bike world champion and World Cup Series winner – the second time in her career in which she has achieved the elusive double. It marked a significant comeback from injuries, including one sustained by collision with a pickup truck in 2009.
"Wow! I'm absolutely gobsmacked to have won the first ever BT Sport Action Women Awards!" She said afterwards
"The first thing I have got to say is a massive thank you to every single person who voted for me and our sport, allowing me to showcase what a jaw dropping sport Downhill Mountain Biking is. This is a huge milestone in my career!"
Footballer Natasha Dowie came second whilst triathlete Non Stanford scooped third.
Other nominees for the award included Christine Ohuruogu, Laura Robson, Katie Summerhayes, Heather Knight, Sophie Christiansen, Charlie Hull and Ellie Simmonds.
A firm favourite at Sportsister we would like to send our huge congratulations to Rachel for winning this award!
For more about Rachel why not read our exclusive interview with her in our October 2013 digi mag? Download it here
Beth Shine, Sportsister
The Women's Sports Magazine
Select a sport
Find out how to get started, training plans and expert advice.