Taekwondo: Jade Jones wins silver at World Grand Prix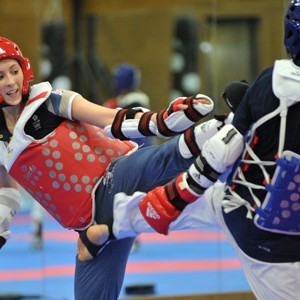 Olympic champion Jade Jones won the silver medal in the women's -57 kg event at the inaugural World Grand Prix in Manchester yesterday, 15 December.
"I've already fallen back in love," said Jones. "I'm enjoying my taekwondo again and I'm buzzing in training and bouncing out of bed to go to training like I used to.
"I was chuffed to be here and chuffed to be fighting in the Grand Prix and I just really enjoyed myself."
It was the first time Jones had competed in front of a British crowd since she famously won gold at London 2012 and she paid tribute to the Manchester support.
"The crowd was absolutely amazing and it gives you goose pimples coming out. For that to be a taekwondo crowd as well is crazy and for it to not be an Olympics just shows how the sport is getting bigger."
Lizzie Flint, Sportsister
The Women's Sports Magazine
Select a sport
Find out how to get started, training plans and expert advice.