Petition has been launched demanding equality for female boxers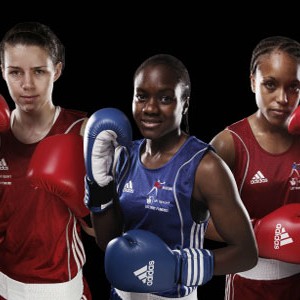 A petition has been launched demanding equality for female boxers in the wake of the announcement that the number of weight categories for women will remain at just three for the Rio 2016 Olympic Games.
The petition, set-up by the Women's Boxing Archive Network (WBAN), has been sent both to the International Olympic Committee (IOC) and the International Boxing Association (AIBA) and calls for changes to a schedule which currently involves just 36 women competing across three divisions in comparison with over 250 men across ten classes.
This is despite the popularity of women's boxing debut at London 2012, where the bout between eventual champion Katie Taylor of Ireland and home favourite Natasha Jonas registered the highest decibel level of any event across the entire Games.
The petition claims that the decision is "against the ideals of the Olympic spirit and Movement" as set out in the IOC charter, and hopes that it will impact decisions made regarding "women in sports at the Olympics" so therefore encompassing disciplines including sailing, swimming and cycling, as well as boxing.
Attention is also drawn to the fact that competitors belonging to the eight divisions not on the programme will have no opportunity to compete, unless "they seek to lose or gain significant weight which could prove extremely damaging to their health and welfare."
After making the decision in July, the IOC released the following statement, "The Executive Board discussed the topic of possible modifications to disciplines, events, quotas and competition formats at the 2016 Olympic Games in Rio de Janeiro, and reiterated that any request from International Federations (IF's) that would result in a higher number of athletes or increased number of medals, thereby adding to the cost and complexity of the Games, would not be considered."
It is understood that the extra competitors and events imposed by the inclusion of golf and rugby sevens to the 2016 schedule deems it logistically more difficult to add additional events in pre-existing sports, especially now the Brazilian organisers are already struggling to get ready in time for the Games.
Shortly after the IOC's announcement AIBA wrote that although "it takes note and respects the IOC's decision, it hopes that more opportunities will be opened to women boxers at the 2020 Games."
The petition comes at the same time as several other gender equality movements within the Olympic Movement, including a campaign launched by former world cycling champion Emma Pooley to support a women's Tour de France to be held alongside the male version in 2014. It is hoped that these efforts will go some way to address the imbalances between male and female sport which still exist.
Lizzie Flint, Sportsister
The Women's Sports Magazine
Select a sport
Find out how to get started, training plans and expert advice.