Cycling: Rapha #womens100 ride
This sunday (7 July) Sportsister's Danielle set off to cycle 60 miles as part of the Rapha #womens100 ride. A day when women all over the world joined a group ride or simply set off on their own to ride 100km/60 miles in a global coming together of the women's cycling community. Despite getting lost and it being the hottest day of the year she made it – here's her story.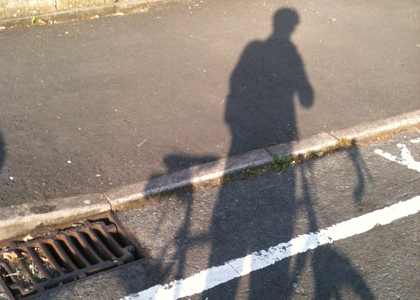 Knowing it was going to be hot, and knowing it was going to be long, I set off at 7.15am sunday morning. Creeping out while my family and seemingly the rest of the world slept on made the ride seem even more adventurous. It really did feel like it was just me and my bike as I set off on possibly the most perfect morning of the year.
I had planned my route via the National Cycle Network, making sure I was never more than 15 miles from home in case anything went wrong. This was to be my longest solo ride by far, so I wanted to play it safe – I wanted to enjoy the experience and finish with a desire to do it all again. On paper, it seemed relatively straight forward, I was to ride route 24 and then pick up route 254 before turning left for home.
Near the start of my ride was the newly opened cycle path called the Two Tunnels Greenway. One of the tunnels at over a mile in length, is the longest cycling tunnel in Britain and although I have been through it several times, at 7.30 am on sunday morning it was eerily quiet. At about a quarter of a mile in, my brain started to send out alarm signals along the lines of:
'you are all alone in a long dark tunnel, no one will hear you scream, there could be an axe murderer lurking in the dark shadows etc etc'.
It's hard to argue with your own brain, especially in the face of such compelling evidence, so rather than panic I just kept pedaling steadily faster until I could see the light at the end of the tunnel.
Back out in the sunshine, having not encountered any axe-murderers my spirits were lifted as I rode past delightful scenes of castles and rolling valleys. I was still less than 10 miles from home, but already it felt like I had been out for ages as I followed the trusty blue cycle network signs in the direction of Radstock, my first major turning point.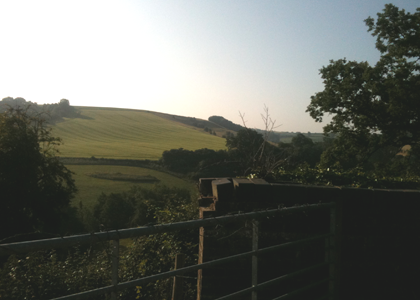 Alas, not so trusty as it turned out. After a few miles of pedaling merrily along, I realised  I had not seen a sign for a while. I was on tiny country lanes, which are idyllic until you come to junctions with no signage of any description and you don't know where you are.
So following my nose I just had to make it up for the next few miles until I met a main road and a sweaty jogger, who told me to turn right. Another couple of miles and I finally made it to Radstock and to my relief picked up the route again.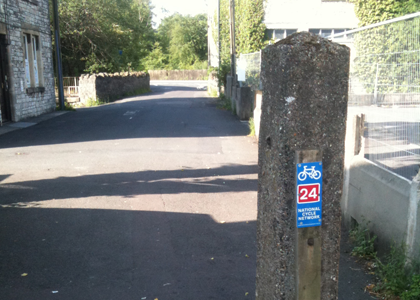 Of course finding a sign is one thing – knowing which direction to follow the path is another. But after a fair bit of dithering I was soon heading along another quiet cycle path towards Frome and the Longleat Estate.
I was nearing 20 miles, but so far the ride had taken considerably longer than I had anticipated. Not that it really mattered, but having based my ride time on the London To Brighton event, I soon realised that it takes a lot longer to cover 20 miles when there are no marshals guiding you in the right direction….and when there are herds of cows on the road…
The next twenty miles were pretty much the same as the first, a combination of quiet meandering down country lanes till I got lost, followed by a stint on a main road to get me back on course.
Luckily I vaguely knew where I was going and my only major irritation was somehow circumnavigating the Longleat Estate rather than riding through it. I also ended up in a few towns that I had no intention of going to and were a bit off course. All this meant that by the time I saw the 'Welcome To Somerset' sign that marked the final leg of my journey, I had been riding for nearly four hours.
It was hot and I was ready for a break, so I headed to a campsite in the pictureque village of Farleigh Hungerford, where I figured I could re-fill my dwindling water bottles.
Not only does Farleigh Hungerford have a castle and a campsite, it also boasts the only river swimming club in Britain, which on this baking hot sunday was buzzing with activity – if only I had packed a towel!
As it was, I filled my bottles and ate my peanut butter sandwiches in the shade of the cow-shed turned shower block at Stowford Manor Farm campsite (thank-you) before heading off on the last 18 miles of my journey.
I was now back on familiar territory, so I took my own route homewards. I was starting to flag considerably in the midday sun, so I must confess to walking up some of the hills that I normally sail-up.
Even the long downhills were exhausting by this stage, I hadn't really noticed how much effort it takes to control a bike down a steep hill until this point. My entire body was aching, and keeping my mind focused was equally challenging as I hurtled down Winsley Hill.
Mercifully the last seven miles were pretty flat which meant that I recovered some energy and started to smile again as I came to the end of my 60 mile ride. It had taken me six and a half hours including stops – an hour longer that I had planned. But it was a great adventure, and I am happy to say I would do it all again…and I will.
Danielle Sellwood, Sportsister
The Women's Sports Magazine
More about the Rapha Women's 100: www.rapha.cc
About Sisters in the saddle blog
Cycling, riding, peddling, fixed or free. What's new, what's old, what works, what doesn't, what we're loving, events, competitions, adventures. In a nutshell this space is about two wheels and what you can do with them.

TO READ THIS BLOG IN FULL CLICK HERE
Select a sport
Find out how to get started, training plans and expert advice.