How to improve your triathlon swim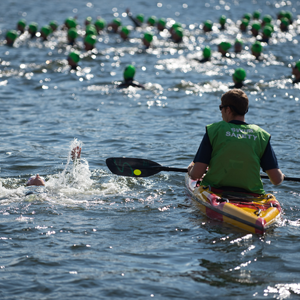 The swim leg of a triathlon is often the most feared section, especially for those new to triathlon who are not used to swimming in a large group or in open water. Here, triathlon expert Jo Carritt shares her knowledge.
Jo knows her stuff – she has been part of the Challenger World Triathlon team since 2011 and has competed in professional Ironman challenges all over the world. She is now in training for the VA London Triathlon which takes place on the 27-28 July 2013.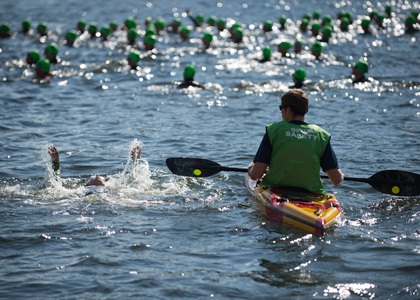 To improve your race day swim, I think that the key is to stay calm. The start of a triathlon race, in open water, is a very new experience and can be unnerving even for those who are very good swimmers. It is probably the most stressful part of the day, with hundreds of people all just as excited and nervous as you, waiting to unleash their energy once the starters horn goes!
If you are a less confident or slower swimmer choose a position nearer to the back of the group to minimise the number of people behind and around you. Remember that it is a long race and having a steady start to the day won't hold you back in the long run, especially if it enables you to avoid swallowing a lot of water, or becoming so frightened that you need to stop.
If you are a more competitive swimmer and feel you ought to be positioned near the front to give yourself the best chance of a fast swim time, then the best advice that I can give is to try to remember that, as aggressive as they seem, no one is enjoying the rough start! That person who's swimming far too close and keeps bumping into you, doesn't mean to and she's probably cursing you also. By remaining calm and friendly, you might even start to enjoy the experience. It sure is exciting!
Usually the crowds thin out after a few hundred metres and with luck you will find yourself surrounded by a smaller and more organised group of swimmers of a similar speed to yourself. This is useful for a number of reasons; it can save you from having to do a lot of navigation (though don't entirely rely on these people who you have never met before to swim the best line – check for yourself from time to time!) and the "drafting" effect created by swimming behind and alongside others can save a significant amount of energy. If you find yourself swimming all on your own, then it is often worth making a bit of an effort to catch up to a group that are swimming just ahead of you for these reasons.
On the whole, the swim aspect of a triathlon for most amateurs should be done at an intensity that feels "quite hard" but still within your comfort zones, relaxed and in control – it's just the start of a long race, and you should not exit the water feeling stressed out or exhausted!
Jo Carritt, Sportsister
The Women's Sports Magazine
General entries for the Virgin Active London Triathlon, taking place on the 27th – 28th July, are now closed but there's still time to enter as part of a team or via one of the official charities of the event. For more information, go to www.thelondontriathlon.co.uk.
Select a sport
Find out how to get started, training plans and expert advice.