Have your say: History matters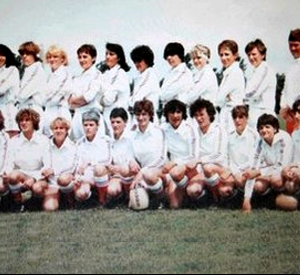 History and tradition have a big role in top level sport. Where would the Olympics be without its history, or the FA Cup, of The Ashes, or the Lions?
Yet, when it comes to women's sport, history and tradition are rarely mentioned – the manner in which the Football Association behaved recently in relation to one of its oldest women's clubs is indicative of that, and it is rare indeed that great women's sports teams of the past are discussed.
The problem is often not a lack of a past, but a lack of care for that past – and there is no better example than the case of rugby union.
Women have been playing international rugby for over 30 years, but until recently no-one (other than the players) knew. Though the IRB and most Unions have always maintained astonishingly detailed databases covering every aspect of the history of the men's game, when it came to women's rugby few bothered. Once a game or tournament was completed it was largely forgotten about, even if it had been advertised in the first place.
However, in recent years an attempt has been made to unearth the games hidden past. Every test match has now been traced, and with it some remarkable stories. Tales of an early French national team traveling by minibus and stopping off at a pizza restaurant on the way to a game, or of a national captain desperately ringing round anyone she could think of to get a team together to play in a European Championship, or of the Soviet Union team that sold illicit vodka (and items of kit) to finance their first World Cup campaign… until HM Customs and Excise found out!
As the information emerged some "smaller" nations – such as the Netherlands, Belgium and Sweden – were delighted to find that they had longer histories than traditional rugby nations such as England or New Zealand. Indeed it quickly emerged that women's test rugby began not in Cardiff or Paris, but rather the playing field of Utrecht Rugby Club in the Netherlands, where in 1982 – as part of the Dutch union's 60th anniversary – someone had the bright idea of inviting the French to send a representative team (they could not ask anyone in England, or the rest of the UK – they would not have a Union of their own for the better part a decade)
The French were delighted to accept… and quickly organised some trial games before meeting up in Paris and heading off to the game. Wearing a plain all-white kit, which the players had had to buy for themselves, and with no sign of a cockerel badge (it would be some years before they were allowed to wear that, so for the first few years France wore a red rose instead!) the French won a very close game by a single try, 4-0.
And it's all not just interesting tales of times gone by. The unearthing of the game's history has been a great help in publicising the game. There is nothing a TV commentator or journalist wants more than some background information – some context in which to put the game, some way of at least giving the impression that they know something about the teams they are watching.
It has also shown a sceptical world that women's rugby is not as minor a sport as was always suggested. One motive behind the research was to show young players that they were taking part in a game played around the world – and so it has shown. Over fifty nations have played test match rugby since 1982 (and over 100 have played rugby sevens – which is more than for any other women's team sport, except football). Eight countries have played over 100 tests – a fact that none of them knew, but which several – including the Netherlands and Ireland – were delighted to celebrate when their 100th game came along.
And now we have the news that women's rugby will shortly reach a milestone that was never previously suspect – the 1000th women's test match.
Remarkably – astonishingly – and purely by chance this landmark fixture, to be played on the 13th July, will feature the game's most successful two teams – England and New Zealand, as it will be the first test of England's tour. Even more remarkably the teams' international records are so close whoever wins the game will become the leading team in the history of the women's game to this point.
Furthermore – as if to demonstrate the breadth of the game even more – the 999th game (on 29th June) featured two of the newest test-playing countries – the Czech Republic and Switzerland – who played their first test against each other in Prague.
What is more, with the 998th game will have been in Africa (Uganda v Kenya), the 996th was in North America (USA v France), and one of the first tournaments after the 1000th game will be in Asia, women's test rugby will be played on every continent this summer.
Women's rugby is a worldwide sport – and it is the discovery of its past to that has helped to highlight its exciting future.
John Birch, ScrumQueens.com
Select a sport
Find out how to get started, training plans and expert advice.