Natalie tries: Total Boxer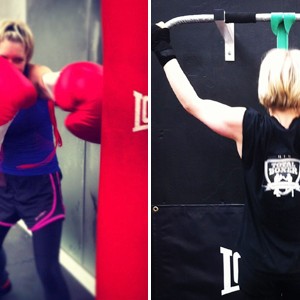 Is boxing really the ultimate workout? And can you do it without risking a broken nose? Sportsister's Natalie headed to North London for a taster session to see if she could get fighting fit.
With the catchy slogan 'Get Fit Not Hit' Total Boxer's fitness sessions give you a full-body work out that focuses on strength, speed, agility and core stability. The fitness skills used in boxing training are notoriously intense, and these handy 60-minute sessions give you a taste of just how tough it can be. With the majority of attendees being female, Total Boxer are keen to promote the concept that 'boxing is for girls.'
What do I actually do?
I entered the class, held in a small gym in Hornsey, with some trepidation. I certainly wasn't keen to hit anyone in the face, and was even less keen to be hit in the face. But to my complete relief the session doesn't include any sparring whatsoever.
It's designed to give you all the benefits of boxing training regardless of whether you are ever planning to step inside a ring. With the help of friendly trainer, Deniz Ates, I wrapped up my knuckles, in true Rocky style, and then we began skipping. The skipping session was far from the playground experiences I remembered from my school days – this warm up was high intensity and really got the heart pumping. It's definitely a skill that needs to be practised; I spent the first five minutes with the rope whipping my ankles.
The main session consisted of shadow boxing. We gloved up and were then taught the basic boxing stance and a jab-cross-hook combo, as well as the relevant footwork. We went head-to-head with the various punch-bags in exhilarating two-minute rounds, as Deniz came through with words of encouragement and advice.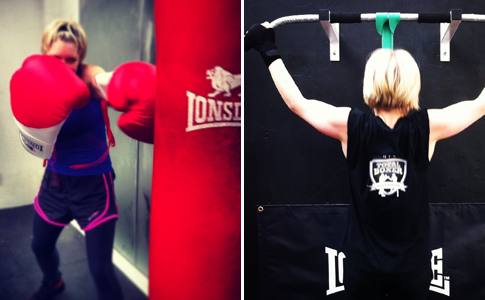 We finished the session with some intensive strength and conditioning – expect a lot of press-ups, planks, squats, burpees and other core-crushing moves. The class is incredibly high-energy, so don't make any vigorous plans for the rest of the day if you opt for the LunchBox session!
What are the benefits?
Aside from the huge calorie-burning potential of these classes, the sessions will improve your stamina and endurance by a huge amount – which is useful no matter what sport you play.
Personally I found that I was using a completely new group of muscles that I often neglect in my regular workouts. My shoulders, back and arm muscles were aching intently after the session. It's great to mix up your work out and engage muscles that you wouldn't normally use.
Completing the class regularly will vastly improve your core stability, which helps to prevent injury at all levels of fitness. Not only will you get one step closer to those rock-hard abs, but it will also improve your balance and overall body strength.
Where can I do it?
Currently the classes are only being held in London, but there are plans in the pipeline to expand nationally and even overseas. Visit www.totalboxer.com for further details or to sign up. And follow @TotalBoxer on Twitter for updates on new classes.
Natalie Morris, Sportsister
The Women's Sports Magazine
Select a sport
Find out how to get started, training plans and expert advice.