Windsurfing: Bryony Shaw takes silver at World Championships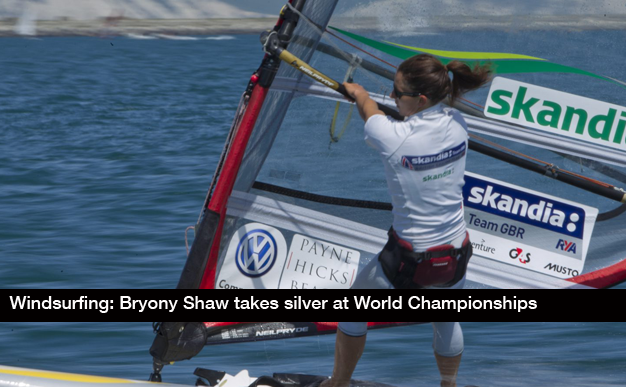 Bryony Shaw won a silver medal at the RS:X World Championship, on Wednesday (6 March), her first ever podium finish at a World Championships.
With the gold medal already assured to Israel's Lee Korsitz ahead of the final race, Shaw, Britains Beijng bronze medallist, trained her sights on preventing an Israeli 1-2.
Going into the final day Shaw was in the bronze medal position and trailed Israel's No 2 Maayan Davidovich by three points. But a determined display saw the British sailor finish fourth in the medal race to Davidovich's ninth, overhauling her and taking the silver medal spot.
"I'm really happy to come away with silver," the 29-year-old enthused.  "I feel I've been sailing really well, especially for the first two-thirds of the week.  I really wanted to close the points on Lee and yesterday was the day to have done that.  It was shifty and tactically hard, and she has been sailing phenomenally in all conditions, so all credit to her, she got away!"
"My Games year didn't work out as I had wanted and it was tough – physically and mentally – so the most important thing for me here is to have had that self-belief grow back inside me again that I do still have it and I can perform on the water.
Shaw concluded: "Since windsurfing had its Olympic reprieve I've just been super-excited to get back on the board again.  This week has been really important for me confidence-wise and I've showed a few things this week and am developing some real super-strengths."
Sportsister, The Women's Sports Magazine
Select a sport
Find out how to get started, training plans and expert advice.