Sportsister tests: Zumba Sentao™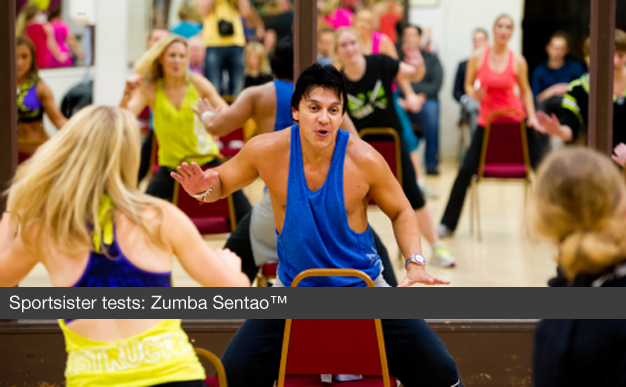 Zumba Sentao™ takes the thrill of the Zumba® fitness-party and creatively transforms a chair into a sizzling dance partner to burn up to 1,000 calories per hour for a total body workout. With all the buzz of Zumba fitness and fun Latin music, this class combines dance moves with toning and core work using a chair – yes a chair!
What is it all about?
If you have somehow missed the Zumba® fitness craze (where have you been?!), Creative Director and Co-Founder Beto Perez likes to call it, the 'fitness-party'. It combines high-energy, spicy Latin beats, salsa-esque style choreography with a fantastic workout – without even realising it because you are having so much fun! And it seems many would agree as in the UK alone 1.2 million people take Zumba classes weekly across 13,000 locations!
Getting started
As this was my first foray into Zumba® in general (I know, better late than never right?), I was intrigued to see what it was all about, especially this new programme, Zumba Sentao™, which involves a chair. My only concern was whether I would need to do sexy burlesque-style dancing using the chair, but this turned out to be not quite accurate…
What exactly do I do?
I was fortunate enough to experience my first Zumba Sentao™ class as taught by Beto, the Zumba-King himself, and Donna Giffen, the UK Zumba® Education Specialist, so the best of the best really (no pressure on me at all!). They led our class from the front, with each of us positioned behind/alongside a chair. Beto then explained that we were not to worry, no sexy chair-manoeuvres were required, and the chair was there as an aid for our workout. Then the high-tempo music started and we were off.
We worked around the chair doing Zumba® fitness dance moves, the choreography being fun yet easy to follow, and we used the chair as an aid to body-weight exercises like press-ups, dips, squats and core work to strengthen, balance and stabilise. A great combination of cardio dance fitness and strengthening and toning exercises.
What are the benefits?
Zumba® in general is high-energy, so great for a good cardiovascular workout, and to improve your fitness and performance. Using the chair adds another dimension of strength work, so it improves definition, balance, stability and muscular endurance. It was a fun and sweaty workout, and I definitely felt my abs and glutes had a good session!
Who does it suit?
Those looking to get not only a fun cardio session, but also build their strength and work on toning trouble spots and enhance definition. Zumba Sentao™, though using a chair (don't be fooled!), is high-tempo, so a fairly good fitness level is required. If you are not a natural dancer don't worry as the choreography is straight-forward, and your inner 'Latina' will be hard-pressed not to come out!
Overall, a thoroughly enjoyable hour, and bring the party to fitness it did!
Where can I do it?
To try out the latest Zumba® fitness programme: Zumba Sentao™, go to www.zumba.com/sentao to find your nearest class.
Bianca Fermi, Sportsister
The Women's Sports Magazine
Select a sport
Find out how to get started, training plans and expert advice.