Speed skating: Two European titles for Elise Christie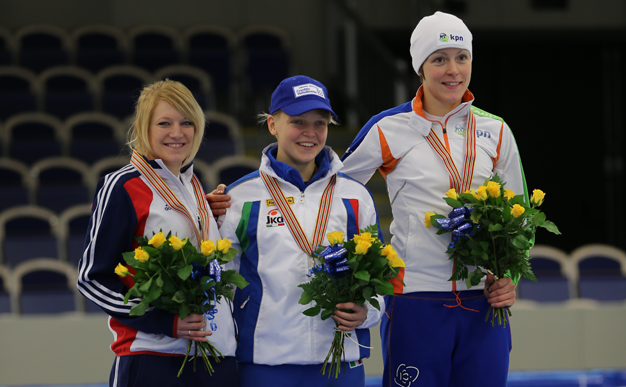 Continuing her fine form this season British speed skater Elise Christie won two golds and finished second in the overall classification at the European Short Track Speed Skating Championships in Malmo, 18-20 January.
On the first day of the competition, Elise Christie and fellow Brit Charlotte Gilmartin, both 22, won gold and bronze respectively in the 1500m, with only Italian skate Arianna Fontana separating the British duo.
Speaking afterwards Gilmartoin said,"I'm really pleased with a bronze medal. It's my first major international individual medal and it shows that the training is working. It's also given me a lot of confidence moving forward, so I'm looking forward to the next World Cups."
Christie, who has finished on the podium at every World Cup race this season, showed just why she is the world number one when she raced in the 1000m event on the final day of the championships.
The 1000m is Christie's strongest event and she went in as the race favourite . This pressure did not seem to affect her one bit as she finished in a time of one minute 30.445 seconds ahead of Italian runner-up Arianna Fontana and Dutch skater Jorien Ter Mors.
These two gold medal winning skates put her on track to win the overall classification, until a fall in the last lap of the 3000m super final cost her overall gold. She said:
"I was disappointed to fall on the last lap because I was skating away from the others. I just lost my left blade and that was it. It's a shame I haven't won overall, but falls happen so I just have to learn from it and move on."
In their first outing, the new British women's relay team, including Elise Christie, Charlotte Gilmartin, Alex Stanley and Kathryn Thomson, finished 6th. After falling in the semi-finals, they were beaten by Poland and the Netherlands and did not qualify for the final.
The next ISU World Cup event will take place in Sochi, 1-3 February, and is a test event for the Winter Olympics taking place there in 2014.
Sportsister, The Women's Sports Magazine
Select a sport
Find out how to get started, training plans and expert advice.