Event review: Gosport Half Marathon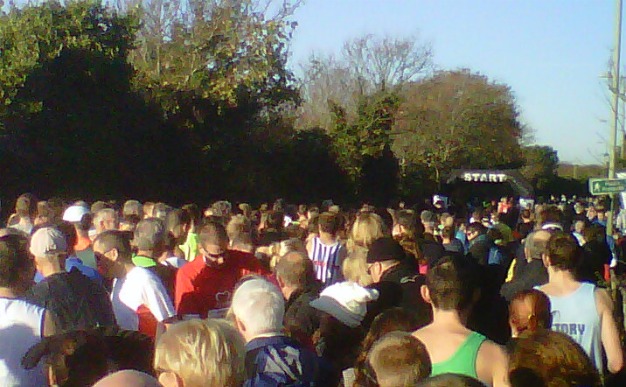 Having been well and truly bitten by the half marathon running bug after completing her first 13-miler in October, Sportsister's Jessica Whittington decided to give another half marathon a go, this time in the form of the Gosport Half.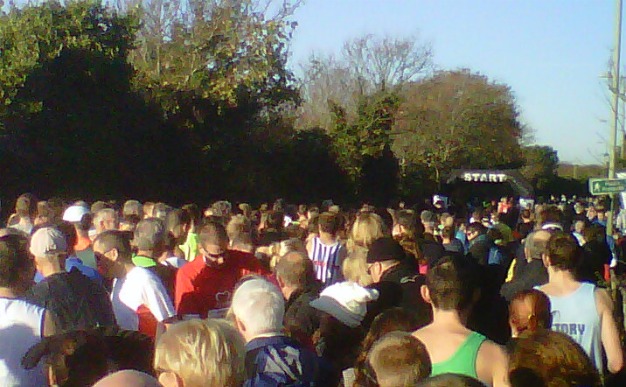 I signed up for this race on impulse when my first half marathon, the 18,500-strong Run To The Beat, was just a few weeks away. Knowing that race would probably either make or break me, I decided to sign up for another half marathon a few weeks after it so I had no choice but to continue running!
Luckily, Run To The Beat went reasonably well, which left me eagerly awaiting the Gosport Half as a more low-key event.
Or so I thought. Although there weren't quite 18,500 runners this time, the event did have to close entry to participants prior to race day for the first time in its 27-year history, after 2,000 runners signed up for the 13-mile run.
The race entries tend to be split 50/50 between Club and non Club Runners for this event, so there is a good mix of abilities that means the race feels busy but not crowded.
Pre-race
I wasn't sure what to expect in terms of organisation at this event, having only a large-scale half marathon to compare it to, but I was pleasantly surprised. I received my race number and information sheet in plenty of time, allowing me to plan my journey and race day well in advance.
On the day there was plenty of free parking with marshals on hand to direct you. Collecting my timing chip was quick and easy and I had no trouble finding a toilet to use, however I do think that was mainly due to good timing as a short while later there was a fair queue as you'd expect at a race with 2,000 runners.
After the short walk down to the start line all that was left to do was join my wave time, which was clearly signed, and don my race face.
The course
I'll admit I had a couple of concerns about this race prior to signing up. The first was that, as the race is a venue for the Hampshire Road Race League as well as being this year's Hampshire Half Marathon Championship, I knew there would be lots of competitive club runners taking part, one of which I am not.
This first point also meant that listening to music whilst running was not allowed, which, although not a huge worry to me, was another big difference to my only other experience of a half marathon, where the listening of music was encouraged!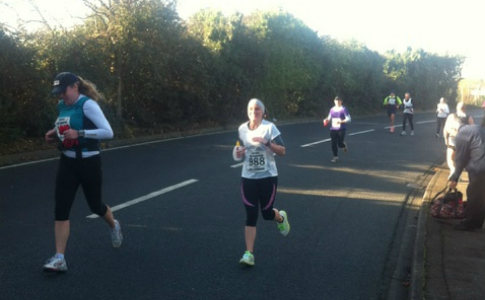 My second concern was that the route is run in laps, with part of the course repeated. But knowing that the race was voted as the best UK half marathon for achieving a Personal Best time by 'Runners World' readers thanks to the flat and traffic free course (largely run on footpaths and walkways) persuaded me to give it a go.
Personally my race started without any huge problems, but I did notice the chip-timing mat had lifted slightly at the start line and spectators later told me that that after I had crossed the line one runner got his foot caught and fell over which had an impact not only on that one runner, but the participants behind him who were then slowed down and herded over one side of the start line.
After making it across the start the route took us along a fairly narrow path on the outskirts of housing, before we did a couple of laps on the service roads of an airfield ahead of the final stretch along the Lee-on-the-Solent seafront promenade.
So how did it go?
Near on perfect race conditions (chilly but sunny) together with some much needed support from local residents and the drummers on the airfield were huge plus points, and I thought the fact that the route was flat would be a positive too, but actually I found this race really tough because of the lack of hills!
Most of my training is done on a slightly undulating route and because the Gosport Half was on a flat and fast course that's how everyone was running – fast! I felt I was pushing myself the whole way and now realise I need those hills to break up the course and motivate me – for what goes up must come down!
The well-signed mile-markers made it easy to work out my pace, however I did hear afterwards from some runners with GPS watches that the route was a little longer than it should have been, though I can't confirm how true that is. But given that I was just off my PB this time around, I'm happy to go with them saying it was a little long!
After the race there was an impressive goodie bag to collect along with a medal and there were massages on offer for a donation which I didn't take up (but later very much wished I had!)
Would I do it again?
Perhaps. It's not an event I'd rush back to, but given how well organised it was and how cheap entry was (£16 for non affiliated runners) I might be persuaded to give it another go once I've worked on my time and want to push for another PB.
Good points
– Well organised with refreshments and massages on offer
– Cheap entry (£14 for affiliated runners and £16 for non affiliated)
– Very friendly – runners, organisers and marshals all welcoming and supportive
– There's also a 1.2 k 'Fun Run' for children under 12 whilst the main event is underway so all the family can get involved!
Bad points
– Slightly monotonous course but that might just be because of my new-found preference for hills!
– More care needs to be taken at the start line to prevent runners getting caught on the timing mat
More info: www.gosportroadrunners.org.uk
Jessica Whittington, Sportsister
The Women's Sports Magazine
Select a sport
Find out how to get started, training plans and expert advice.