Getting started: Snowboarding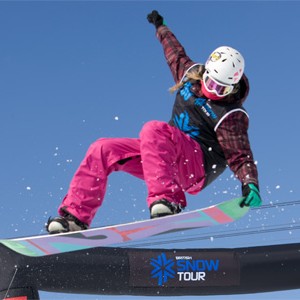 It's one thing learning a new sport in a sports hall, swimming pool or playing field. It's quite another being on top of a snow covered mountain surrounded by trees, breathing fresh mountain air and having both feet strapped into a waxed board, ready to slide down said mountain.
Welcome to the lifestyle sport that is snowboarding.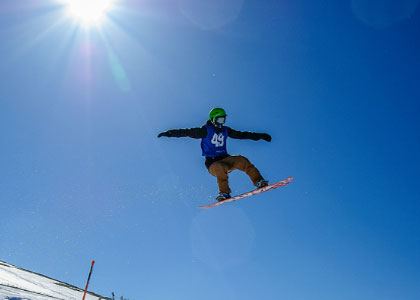 What's it all about?
Snowboarding is a mix between skateboarding and surfing. Both feet are strapped into bindings which are attached to the snowboard. Depending on your personal preference, either your right or left leg is the leading leg. The front, or 'nose' of the board, points down the mountain.
Snowboarding is about shifting your weight and using the edges of the board to steer. If you have your left leg forward, putting pressure on your toes and pushing your hips slightly forward will make you turn to the right. By putting pressure on your heels and sitting down slightly you will turn to the left. If your right foot is in front, the opposite will happen i.e. pressure on your toes for a left turn and pressure on your heels for a right turn.
One of the most common mistakes is to learn backward, putting all your weight on your back leg. This will cause the board to rise up out of the snow and for you to lose control. Your body weight must be kept over the front knee.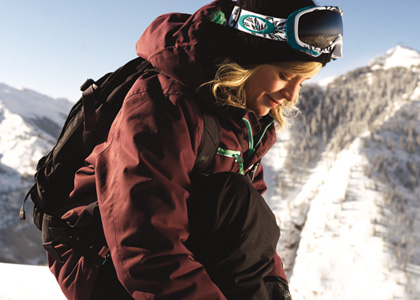 What do I need?
A snowboard of course. But also bindings, snowboard boots, waterproof outerwear – preferably by a snowboard specific brand – thermal underwear, gloves, hat, helmet and goggles. Oh, and some snow!
The size of your snowboard will depend mainly on your height but also on your weight. A standard rule of thumb is a board that comes up to your chin.
There are now women specific snowboards that are light and easier to manoeuvre and that come in much shorter lengths.
Where can I do it?
In the UK, head to Cairngorm, Glenshee and Glencoe in Scotland.
From Andorra to Sweden, Europe's snowboarding possibilities are endless. However, look out for resorts that have plenty of blue and green pistes as they are easy runs. Also, try to avoid resorts with lots of t-bar lifts to take you up the mountain, as these are pretty tricky for snowboarding beginners.
The US, Canada, New Zealand, Australia and Japan offer top notch snowboarding too but are a much more expenise venture!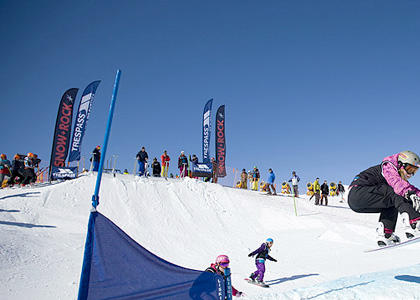 How much does it cost?
One thing is for sure, snowboarding is not a cheap sport. A decent snowboard is anywhere between £200 and £450, bindings are around £150, boots are about the same. Goggles are approximately £100, a helmet will be at least £60 and gloves can also be pricey at around £30 to £70. Thermal underwear doesn't come cheap either.
Plus you have to pay to get to the slopes and it is a good idea for beginners to have lessons to avoid hurting themselves and others, and these can be around £50 a day.
To get access to the mountain resorts you'll need a lift pass. These can range from around £30 a day pass up to £600 or so for a season pass, depending on the area covered.
Is it for me?
Anyone can learn to snowboard at any age; all you need is confidence, resilience and patience.
You do however need to be moderately fit. When you are learning there is actually a lot of walking involved so a good general level of fitness is required, but don't worry, you don't have to be a gym bunny to do it.
Strength in the legs is something else that is particularly important. You are basically performing a squat position for the day which can be tough, but once you've got the hang of it, you and your muscles can relax a little.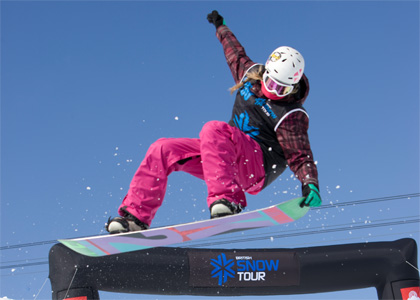 Progression
Once you've mastered the basics on the pistes, dependent on your level of confidence, improvement is rapid. You have two main routes of progression; Freestyle or freeride.
Freestyle is doing tricks in the park or half-pipe. You will focus on rotations, flips and various grabs on varying sized jumps and other man-made obstacles. For this, you need a more flexible snowboard that is slightly shorter than chin height.
Freeride is a term used to describe off-piste or backcountry snowboarding, i.e. snowboarding in powder snow that hasn't been smoothed over and formed into pistes. You will snowboard out of the marked boundaries therefore greater risks are involved, particularly from avalanches, so you need to have a much greater skill level and awareness of snow and the weather. The challenge is picking a good route or 'line' down the mountain and adding some jumps and tricks along the way on natural jumps and obstacles.
Snowboarding jargon
Regular rider: left leg as your leading leg, i.e. front foot on your snowboard
Goofie rider: right leg as your leading leg
Kicker: a jump
Box: a man-made obstacle that looks exactly like giant box
Riding/shredding: terms used to describe snowboarding i.e. riding down a mountain / let's go shredding
Nose: front end of the board
Tail: back end of the board
Frontside edge: the edge of the snowboard closest to your toes
Backside edge: the edge of the snowboard closest to your heels
Riding 'switch': when goofy riders snowboard in the regular position and vice versa
T-bar lift: a standing lift that drags you up the side of the piste using a bar placed between your legs
Chair lift: a sit down lift whereby you keep your board strapped to your feet and you slide off at end
Pistes: the 'roads' of the mountain that you snowboard down, they are graded blue/green for easy, red for intermediate and black for hard. In the US they also have diamond, which should only be attempted by advanced snowboarders
Useful links
General info: www.skiclub.co.uk
Holidays: www.neilson.co.uk OR www.inghams.co.uk OR www.crystalski.co.uk
Equipment/shops: www.snowandrock.com OR www.absolute-snow.co.uk
Tourist info: ski.visitscotland.com
Top tips
Animal Team Rider, Kate Foster is an ex-Olympic snowboarder and four-time British Champ. Here she shares with us the most essential things that you'll need when getting started with snowboarding:
1) Snowboard – you can rent one at any resort or get a deal on a used one or from a friend, just make sure you have someone there who can help you out choosing it! You'll need to know whether you're goofy or regular (which foot goes in front!) And having one the right size will make a huge difference
2) Goggles… Sunglasses just won't cut it, you will get watery eyes!
3) Snowboard pants and a jacket – I wear Animal
4) Waterproof gloves
5) Chapstick with SPF
6) Sunscreen is ESSENTIAL. The sun is twice as strong when you're up on the mountain, plus you get the sun's reflection off the snow
7) Hat
8) Proper snowboard/ski socks
For more info from Kate visit: www.animal.co.uk
Sportsister,
The Women's Sports Magazine
Select a sport
Find out how to get started, training plans and expert advice.