Get fit with a ski bootcamp
Flying down the final run, the crisp air tingling on my burning cheeks, I have a broad smile on my face. It's not just the peaceful beauty of the tree-lined slope, nor even the thrill of a day of downhill adventures. What's really making me grin is that my legs are feeling strong, supple and astonishingly pain-free.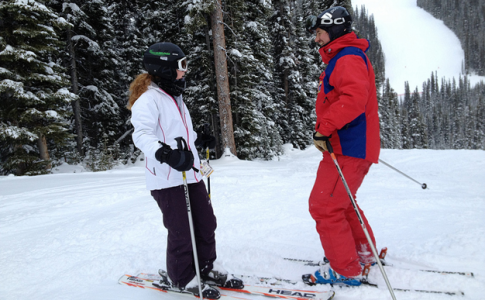 This is a new departure for me. In the past, skiing has been a mixed blessing of pain and pleasure. Despite solemn resolutions to get ski-fit, my plans invariably go awry and the sounds of the wind in my ears and my skis cutting through the snow are drowned out by my legs screaming all the way down the mountain.
Not this year, though. I've signed up for the Ski Fit Bootcamp in Canada's Rocky Mountains, which promises an energetic programme of ski-specific exercise classes and yoga interspersed with skiing in Jasper, Lake Louise and Banff.
Our first ski session is at Marmot Basin in Jasper, where we are thrilled to discover powdery snow and glorious, wide runs. The instructors are a far cry from the leathery, snake-hipped, bend-ze-knees variety I'm accustomed to. Chilled, twinkly and fun, they make it seem easy and we are soon whooping our way down the slopes.
Jasper prides itself on its laid-back approach to life – Altitude without Attitude is its motto – and downtown Jasper, with elk wandering the streets, lives up to its promise. A game of the drinking game Flip Cup at the Jasper Brewing Company only ends when we remember that tomorrow brings more exertions.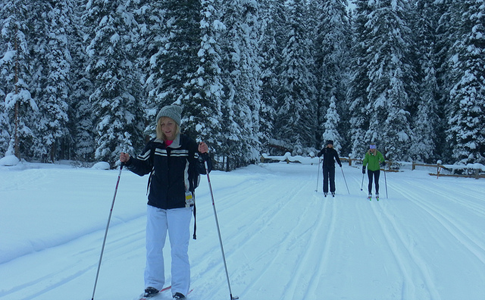 "You're stronger than you think you are", shouts Stephanie Sophocleous. It's the following morning, and I silently give thanks that we didn't go for that sixth round of Flip Cup. Stephanie has already delivered a vigorous step warm-up and a set of circuits that had us gasping for air, and now we're on to Tabata – interval training with eight sets of 20-seconds-on, 10-seconds-off challenges. It's fast and furious and we're grateful for a change of tempo with yin yoga, stretching out with long poses that Stephanie promises will enable us to walk tomorrow.
On to the spectacular Lake Louise, where I can't deny I'm nervous about the day ahead. My quads are burning after yesterday's exertions. Slightly reluctantly I shuffle on to the lift and am rewarded at the top by views so breathtaking they distract me from my aches and pains.
We are guided by a ski friend – a volunteer ski guide whose services are offered free of charge – and explore both the main pistes and the "back" runs of Lake Louise. I'm relieved to discover that my legs only start to feel the strain well into the afternoon and a glass of hot cider soon takes the pain away.
True to bootcamp form, the following day has us cross country skiing and snow-shoeing in a silent, snow-capped forest. Our instructor, Kristi Beetch, has an infectious grin and a body to die for, and we soon find out why. Cross-country proves a serious cardio work-out, and the snow-shoeing, where we find animal tracks in virgin snow and learn how to spot poisonous lichen, is surprisingly strenuous.
The action continues at Banff with a full-on session with personal trainer Chris Pacheco – a CrossFit aficionado who, after putting us through a killer of a warm-up with squats and lunges, launches into more Tabata, this time involving lunges with a 5 kg bar, burpees, planks and power sit-ups. It's all geared to skiing and Chris is careful to ensure that although we work up a sweat, we'll still be fit to ski the next day.
It's just as well, since there's the small matter of a night out in Banff, which bustles with restaurants, shops and clubs. The Saltlik restaurant –hip without being achingly cool – typifies the Banff scene with its relaxed brand of stylish eating and cocktails.
Our final day begins with yoga with the aptly-named Chie from Rocky Mountain Yoga who gets our sluggish bodies ready for our last visit to the slopes – this time in Sunshine Village. The skiing here is an exhilarating variety of wide, gliding runs, tree-filled paddocks and challenging mogul-dotted inclines and we leave feeling there is much more to explore.
At our last stop – Banff's Upper Banff Springs where a blissed-out massage at the Pleiades Spa teases out every last knot in my well-worked limbs – I glance down as I lower myself into the sulphurous thermal waters. I'm convinced that I can see muscles I didn't have a week ago. Ski-fit? Most definitely.
Travel facts
Crystal Ski offers the bootcamp package for £1,889 p.p. for 7 days staying in Banff (or £2,398 with an extra 3 nights in Jasper) including flights, transfers, fitness activities, lift passes and a massage treatment www.crystalski.co.uk/ski-resorts/canada-ski-holidays/banff/the-fairmont-banff-springs/
River Stone Yoga, Jasper: www.riverstoneyogajasper.ca
White Mountain Adventures: www.whitemountainadventures.com
Rocky Mountain Yoga – Banff: www.banffyoga.com
Pleiades Spa: www.pleiadesmassage.com
Skiing in Jasper: www.skimarmot.com, www.jasper.travel
Skiing in Lake Louise and Banff: www.skibig3.com, www.banfflakelouise.com
Patricia Carswell, Sportsister
The Women's Sports Magazine
Select a sport
Find out how to get started, training plans and expert advice.