Travel: Pedal powered adventure in the Cotswolds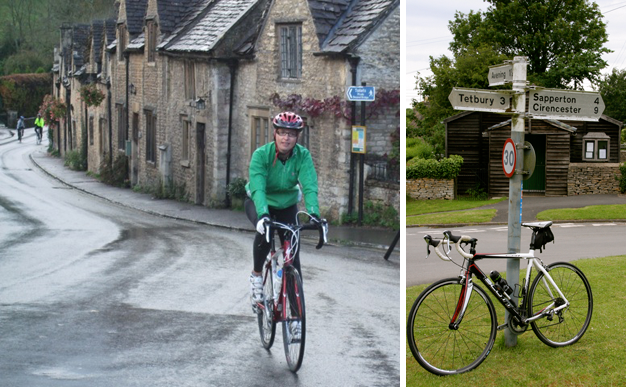 When it comes to holidays if you'd rather leave the organisation to someone else, then a trip with Cotswold Cycling Breaks could be just the ticket. All you need do is to turn up with your bike and all the other details will be taken care of.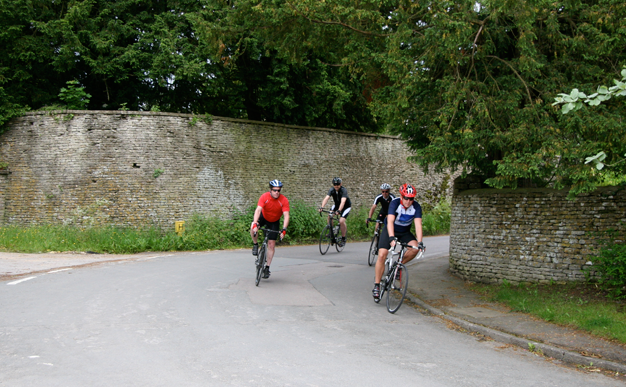 I'm still a relative newcomer to the world of cycling, but I've soon discovered that for me the difference between an OK ride and a great ride always comes down to the route. Great for me means small, quiet country lanes; plenty of pit stops along the way and it must be easily navigable. Call me impatient but I hate having to stop every five minutes to check iPhone maps or sign posts, so local knowledge of a ride is a big bonus.
And that's what you get with Cotswold Cycling Breaks. It was set up by Iain Bailey, a born again cyclist and owner of the gorgeous boutique Ormond Hotel in the charming town of Tetbury. After many years spent pedalling the Cotswold countryside with his local cycle club, he decided to put that insider knowledge to good use by mapping out his 12 favourite rides in the area. Ranging from gentle pedals to and from award winning pubs to lung busting climbing routes, you can take your pick with a different ride for each day of your stay.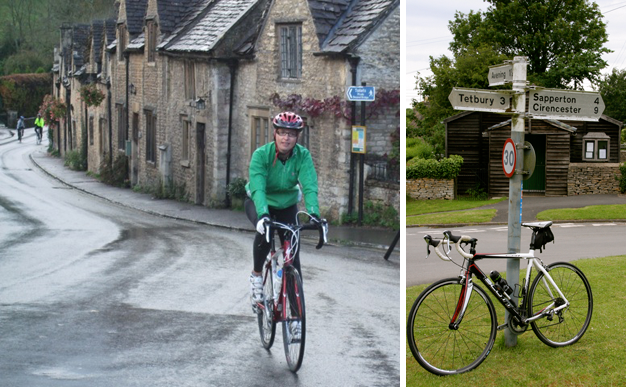 Then, armed with a Garmin loaded with all the route information, plus some tips on where to stop en route for sightseeing or tea and cake, you can set off on your way safe in the knowledge that you will be riding the best routes in the area, avoiding busy roads and seeing the Cotswolds at their stunning best.
My first ride was a 23 mile loop, graded moderate, with a manageable 538ft of climb. In Iain's ride notes he speaks of riding down scenic, quiet lanes with miles of dry stone walls and this was exactly what characterised this route. It was a perfect introduction to the area. If you are looking to go a little further afield there are suggestions of tacking on another route to this one, but we stuck with the original ride through the pretty villages of Cherrington and Sapperton before heading back to our base, a 17th century coaching inn set on the main shopping street in Tetbury.
The second ride was the longer Castle Combe loop, graded easy, it took you to the very southern tip of the Cotswolds and the impossibly quaint village of Castle Combe. Wet and blustery November weather aside, this was a great ride. There was a decent climb up to Somerset Monument, which I was told on a clear day offers you views all the way to the river Severn. While the rain hampered the long distance views, it was still impossible to miss the charm of the Cotswolds with every twist and turn revealing more charming countryside. And should you happen to have any problems out on your ride, you can call for back up from the local bike shop who will bring you and your bike back to base for a small charge.
Once back at the Ormond you can hand over your bike, and your dirty kit, and both will be handed back to you in the morning, clean and gleaming. Now that's what I call service! There are also energy drinks, bars and recovery shakes on offer to help keep you fuelled during your stay.
And whilst we are on fuel, the food is top class. Breakfast offers healthy, slow energy release options to power you up for the day's riding, whilst dinner brings together the best local, seasonal produce in hearty, delicious dishes. Finish it all off with a protein rich hot chocolate night cap and retire to your stylish room – this is a cycling break with frills!
Next year there are also plans to launch specialist cycling camps run by Andy Cook Cycling. With over 25 years' experience organising events and camps in the UK and abroad, the team at Andy Cook Cycling will help you improve your riding, build your confidence and boost your fitness. It will be a great way to get some expert advice whilst riding the best routes in the Cotswolds. With beginner and intermediate camps on offer it's a great option whatever your skill and experience level.
Fact file
Cycle breaks start from £99 per person per night. This includes breakfast, 2 course evening meal, pre and post ride fuel, bike clean and storage, kit wash and use of the pre-programmed Garmin sat nav.
The first Andy Cook Cycling camp will take place February 15-17, with 6 more weekends planned during 2013. Prices start at £500 per person including accommodation, breakfast, dinner, guided rides, training advice and sports nutrition.
www.cotswoldcyclingbreaks.co.uk
Louise Hudson, Sportsister
The Women's Sports Magazine 
Select a sport
Find out how to get started, training plans and expert advice.