Surf the UK way with Corinne Evans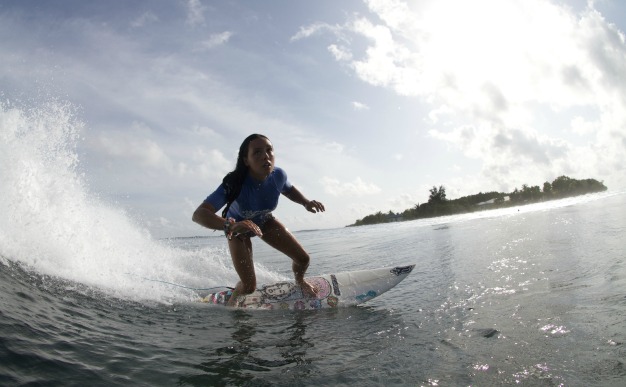 As the days get shorter and the weather gets colder we could be forgiven for jetting off to warmer climates to get our surfing fix.
But stay in the UK and you'll be pleasantly surprised at the curl on offer, as pro surfer Corinne Evans taught Sportsister during a recent catch up…
I was about 19 when I started taking surfing seriously. Since then the growth in women's surfing has definitely increased. Having the Olympics in London really showcased these amazing athletes who dedicate their lives to their sport and being healthy, and even though surfing isn't in the Olympics I do think it will encourage more people to try new things and surfing could be one of them.
Perhaps surprisingly, the water isn't actually that cold this time of year. Up until Christmas it's still quite mild but January, February and March are the months when you definitely need to invest in a good wetsuit, some boots, some gloves and a hood because it can get really cold!
On paper the UK has better waves in the winter. We have some big swells and it's quieter over here because surfing is still quite a seasonal sport and people prefer to do it in the summer even though you can do it all year round. People see winter as a time to hibernate but it's not! As long as you invest in some good kit that will keep you warm in the sea then you can surf here all year round.
I love surfing in Newquay because it's where I learnt to surf and it's my home town. Around Newquay look out for Fistral Beach and Watergate Bay as they are both really good surf spots. When the winter swells come Newquay Bay also tends to get some quite fun waves coming through and it's quite sheltered.
When I'm in Devon I like to surf around Croyde Bay and Putsborough. Putsborough is probably better for the learners because it picks up a little less swell than Croyde. So Putsborough is good if you're a beginner and Croyde is good if you're a bit more advanced and you want to push yourself.
You can also head to Newcastle for some top spots. There's surf breaks all along the coast. It's a case of driving down little roads and finding them out. Just remember to respect the locals and not take all the waves.
The surf schools around the UK usually run during the winter as well. I have done a lot of work in Newquay with Errant Surf School who do some really good beginner classes. The beach they use is Great Western and that is a really good beach for learners.
If you want to spend at least an hour in the water you've got to invest in a good winter wetsuit. I would go for a 5×4 which is the thickness of the wetsuit. You can get thicker ones but I think in England I think that's enough. C-Skins do the Wired 5×4 – it's really good at stopping water coming in!
As well as a good wetsuit you have to invest in some gloves, boots and definitely a hood. I'd also really recommend ear plugs – surfer's ear is a massive problem and it's all to do with cold water and cold air. If you're going to take it seriously there's a company called Surfplugs that make custom made ones that mould to your ears and they're amazing.
Top tips
– Go to a good surf school and get some lessons
– Buy a board that's right for you
– Just get in the water as much as possible, whatever the surf and whatever the weather. You can still have fun, even if it doesn't look that great. Don't let the cold weather stop you!
Jessica Whittington, Sportsister
The Women's Sports Magazine
To find out more about Corinne visit www.corinneevans.com
Select a sport
Find out how to get started, training plans and expert advice.