Brilliant Begum – Sportsister meets Britain's Muay Thai champion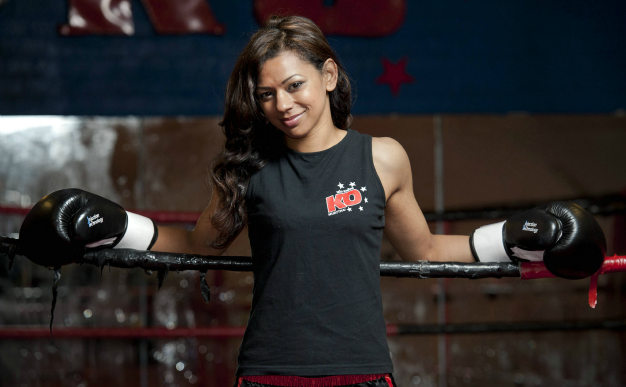 Becoming Britain's best has been a battle both inside the ring and out for reigning Muay Thai champion Ruqsana Begum.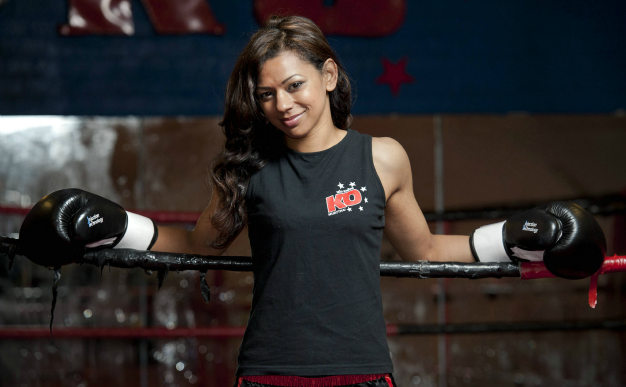 The 28-year-old has risked breaking bones as well as barriers to peruse her love for the martial art. Her British Bengali background means she has had to work around religious and gender boundaries as well as opponents to get to the top, leading her coach Bill Judd to label her not only a minority in the sport, but 'a minority in a minority in a minority'.
Ruqsana bagged a brilliant bronze at last month's International Federation of Muay Thai Amateur World Championships to further cement her position as Britain's best female fighter and one of the sport's stars on a global scale. The tournament, held in St. Petersburg, Russia, saw teams from across the world compete, with many of those countries recognising the martial art as a national sport.
"It's amazing actually because we just went out there for me to give it my best shot," Ruqsana tells me.
"To come third out of 130 countries is great, especially as most of those countries are government funded for the sport and the athletes are training full time."
Cue yet another barrier. What makes Ruqsana's success all the more incredible is that she has done it whilst balancing family and work commitments, working part time with a hectic charity work schedule, to enable her to fight as a semi-pro.
"I've always been interested in sport and when I was leaving school I wanted to take up a martial art," she says as we discuss her Muay Thai journey. "I had to wait until I finished college because of financial reasons, so I got a part time job and found KO Gym. I just loved it, and the gym looked after me really well. My coach really took me under his wing and understood the cultural and religious boundaries.
"It began as a hobby; I'd train and not finish the class and rush home because I gave my mum my word that I would be home in an hour. The normal rules are that if you take part in a class you finish the class, so I was really grateful that I could train and that my coach was so understanding.
"I was very conscious of my family situation and the community and how people might react to what I was doing because it's not very female oriented to begin with, even in the Western culture. So to come from a background where I'm Muslim as well as Bengali from a traditional background, I was very cautious to make sure that I was not upsetting anyone."
Ruqsana has been the British female Muay Thai kickboxing champion since November 2010 but surprisingly admits that it was only as recently as last year that she realised she might have a chance to make it at the top.
"In 2011 I went to Latvia for a European Open Championships and I came back with gold, beating a Finish girl and a Turkish opponent." she tells me. "They are both really strong countries in these sort of competitions, and that's when I realised that hang on a minute, this might not be a fluke, I'm actually quite good!"
Turns out Ruqsana's 'quite good' talent along with her obvious determination and role model potential were picked up by others too, and although Muay Thai is not, yet, an Olympic sport, she was able to play a part in the London 2012 Games when she was asked to be a Torchbearer.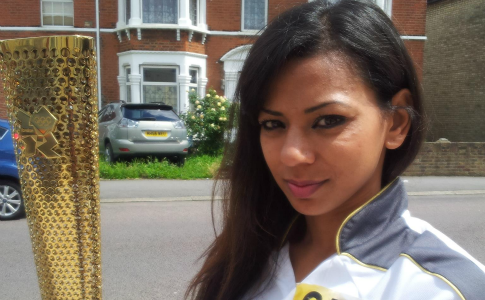 "I was honoured to be part of that legacy; no one can take that away from me," she beams. "I hope I was an inspiration. They based their choices on how inspirational your story is and if you can be an inspiration to the next generation and I hope that was me."
Having spoken to Ruqsana, there's not likely to be any doubt about that. A true inspiration to young people, particularly women and those with possible barriers in their path, Ruqsana has proved that if you want something badly enough, you can make it happen. Next stop, the Olympics?
"As far as I'm aware it's in the process of being recognised as an Olympic sport at the moment," she says as we discuss whether Muay Thai might feature on future programmes. "I think they've indicated that in 2020 it will become part of the programme but they're trying to push for Rio 2016 too.
"I'm not sure in eight years what my position will be, but I would love to be a part of that. If I'm capable of producing a bronze at the Worlds already it would be so great for me to continue and come back with a gold at the Games."
But if she has to settle for 'British champion' and 'role model' rather than 'Olympian', it's still a role she'll relish. In the ten years she's been involved with the sport she's seen its popularity and acceptance boom and knows the positive impact being involved with sport can have.
"When I first took up Muay Thai it was hard for me to train because of the situation back then but now it is so popular and everyone does it just for fitness, and you can carry on to compete if you want to.
"When I started it was hard to find even one other female to spar with, so it's really changed, both the perception and how popular it has become.
"As well as fighting myself I work with the charity Fight for Peace and take part in lots of community projects – mentoring and giving speeches – to encourage other young people to go into sport or challenge themselves to find something that they are passionate about.
"For me, my dream came true and I want other people to see that and take that too."
Jessica Whittington, Sportsister

The Women's Sports Magazine
Ruqsana would like to thank her sponsors for their support. Find out more about the British champion at ruqsana-begum.com, find her on Facebook or follow her on Twitter. ENS Sports PR manage Ruqsana, for more details see www.ensltd.com.

Select a sport
Find out how to get started, training plans and expert advice.