Hayley Turner: British racing's poster girl?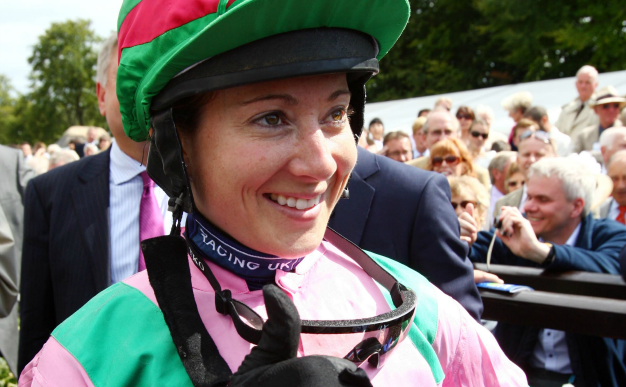 Ask anyone in this country for the name of a female jockey and chances are they'll say Hayley Turner.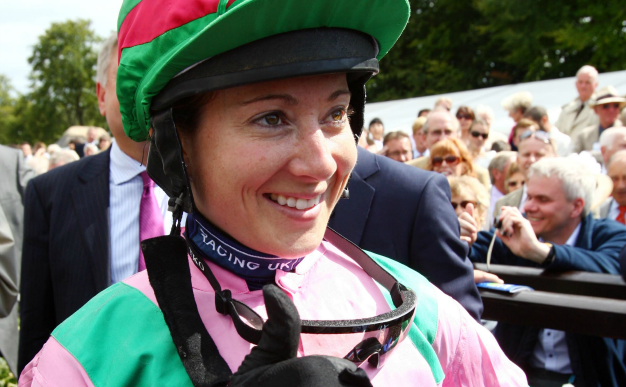 That's nothing new. The 29-year-old has been paving the way for women in her sport for years, but it's not been an easy ride to the top.
Her grounded and honest personality, along with her no-nonsense riding style and strength in a finish, means she's incredibly popular on the racing circuit. Just don't go calling her the poster girl for British racing.
"I'm not working any harder than the lads," she says as we discuss whether being a woman in a 'man's world' gets her more recognition. "They all work very hard but I seem to get a bit more publicity than them, because it's something a bit different being a girl I suppose."
The great strides she's taken in racing along with her gender put her in prime position to be a spokeswomen for the sport, but Hayley admits it's the here and now that's important. She tells me she's more interested in her immediate impact on the racing scene, rather than the future of female involvement in the sport. So does she like the idea of being British racing's poster girl?
"Not really!" she laughs. "I do enjoy it but it's really difficult to get a balance because our job is such hard work. We're up early, we drive all day, and it just takes it out of you. Maybe in the winter I can appreciate it a bit more but at the moment you just can't focus on anything else.
"Without meaning to sound selfish, when I take my foot off the gas I'll have more time to do stuff like that but you can't do everything."
And if inspiring the next generation of female jockeys means sacrificing her own success then who can blame her. She's certainly doing something right. In 2008 she became the first female jockey to ride 100 winners in a season and three years later became the first ever woman to ride a Group 1 winner outright with success at the July Cup. Since then she's managed more milestones, becoming the first female jockey to ride on Dubai World Cup night earlier this year, as well as the second female jockey in history to have a ride in the Derby.
"Riding my Group 1 winners are definitely highlights," she says as we reflect on her impressive career. "It was nice to do that in America recently. Really it's just been good to creep up the ladder as I've gone along. I've taken small steps and I never imagined when I started out that I would get as far as I have done."
Hayley's interest in horses began as a child, when her mother was a riding instructor in Nottinghamshire. But she soon realised her heart was in racing and never looked back. However her career almost came to a sudden end in 2009, when she suffered a serious head injury in an accident on the Newmarket gallops.
She was found on the gallops with blood coming out of her ears and doctors told her it was unlikely she would ever ride again. She was 'stood down', meaning she was officially told not to race by the medical staff of the British Horseracing Authority, but Hayley wasn't willing to accept that.
"They stood me down for a year and I had to appeal it. At the time I just hadn't achieved nearly as much as I'd wanted to, I had so much more I wanted to do.
"It came at the end of a very successful year, so to have it taken away was hard. I didn't deal with it very well mentally more than anything.
"If it happened now I think I'd deal with it a lot better but at the time I never actually got out of the racing bubble even though I wasn't working I just wanted to be back riding, I couldn't think about anyone else. I was very selfish about the whole thing really."
Although she's not ready to embrace the title of Britsh racing poster girl just yet, Hayley does admit she's grateful for the recognition she receives. She even won Sportswoman of the Year at the Glamour Awards earlier this year, pipping the likes of Jessica Ennis and Rebecca Adlington to the title.
"I think that might have had something to do with the timing, as it was just before the Olympics!" she laughs. "But it was amazing to get that recognition. Racing probably doesn't get the recognition it deserves sometimes so that was amazing to get."
But for now, although gaining recognition is important to Hayley, she has a simpler ambition for the immediate future.
"I'd just to stay in one piece and continue enjoy what I'm doing," she says, "Then anything else that comes along is a bonus."
Jessica Whittington, Sportsister
The Women's Sports Magazine
To watch Hayley in action on QIPCO British Champions Day, tune into BBC TV or BBC 5 Live from 1.30pm. For more information visit www.britishchampionsseries.com.
Select a sport
Find out how to get started, training plans and expert advice.