Whether it's running or relaxation, cycling or shopping you're after, Poitou-Charentes in France has it covered.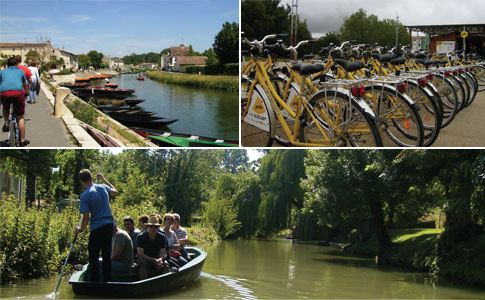 Situated on the Atlantic Coast between Nantes and Bordeaux, Poitou-Charentes is a beautifully diverse region. Split into four 'départements' or counties – Charente, Charente-Maritime, Deux-Sèvres and Vienne – it boasts 460km of coastline and 110km of beaches as well as 2950km cycle tracks, 20 golf courses and five major walking routes. Safe to say, they've got your sporting needs sorted.
Lonely Planet lists Poitou-Charentes as one of the top ten regions of the world to visit in 2012 as it 'encapsulates the best of France in one small, easily digestible region'. Seems I couldn't have chosen a better region to begin my travels of France in.
On your marks
As a keen runner it was the Maraisthon that first caught my attention. The event, which is the world's only eco marathon, is a first for sport in France – it's entirely based around sustainable development and ecology and is the first sporting event in the world to have a charter of ten ethical points.
Arriving in Coulon, the host village for the event, it's easy to see why organisers work so hard to create an event that doesn't negatively impact surroundings. Coulon is located in the Marais Poitevin, or 'Green Venice', which is the second largest temperate zone in France. Nestled between the Atlantic Ocean and the town of Niort in Deux- Sèvres, these famous marshlands are blessed with a particularly agreeable climate. The Marais Poitevin is vast – over 90,000 hectares of green dissected by thousands of canals, and I couldn't wait to explore some of it by foot in the Maraisthon's 10km event.
Appealing to both runners and fans of eco living, organisers had developed an eco zone which created a real festival feel, with exhibitions and a bio-produce market. I was lucky enough to be staying in a lovely local hotel, the Hotel au Marais, situated just five minutes walk from the start line. So after a light breakfast I made my way along the bank of the canal to get my race face on.
There are many attractive features of the Maraisthon, but the scenery and flat course were stand outs for me. I was secretly hoping for a new personal best time, however it turns out the agreeable climate previously mentioned isn't quite so agreeable when you're trying to tackle 10km and I was a few seconds out (hats off to the marathon runners!)
As 10km events go I have few complaints about this one, but at a push perhaps the kilometre markers could have been a little clearer. All race numbers also feature participants' names and this really seemed to encourage spectator support. Cries of 'allez Jessica!' certainly helped me on my way.
Take a look at the beautiful scenery in this video of last year's event.
On your bike
With 220km of navigable roads, 2950km of cycle tracks and 2195km of mountain bike tracks it seems Poitou-Charentes is also a haven for those who prefer two wheels.
As well as the Marais Poitevin, my trip took in La Rochelle, or 'Little Rock', which takes its name from the town's elevated position above the marshland bordering the Atlantic coast. A very historical town, it's known as 'the rebel city' for being democratic ahead of time.
With 'two birds, one stone' in mind, I decided to spend my time on the saddle exploring the town, however, due to the vast number of cycle routes available (93.5km alone in La Rochelle), the whole of Poitou-Charentes really is your oyster.
Although, one bonus of sticking to La Rochelle is the availability of the town's yellow bikes which are free to use for the first two hours before a small hourly rate is charged. Though basic with their fixed gears and minimal suspension they're perfect for exploring the (welcomingly flat) town.
La Rochelle is also a haven for water sports, with its Les Minimes marina and various ports. Plans to extend the marina by over 1,000 places over the next few years will make it the largest marina on the Atlantic coast, but despite that popularity sailing still wins hands down, with more sailing boats than yachts in the area.
Double up
Why not combine a visit to Poitou-Charentes with one of these great events?
Grand Pavois
September 19-24, 2012
The Grand Pavois is one of the biggest international on water boat shows, with 100,000 square meters (45,000 square meters afloat) and more than 860 exhibitors representing 35 countries.
More info: www.grand-pavois.com
La Rochelle Marathon
November 25, 2012
This year will see an expected 9,000 participants descend on La Rochelle for the 22nd La Rochelle Marathon.
More info: www.marathondelarochelle.com
Maraisthon
June 16, 2013
The Maraisthon will return to Coulon in the Marais Poitevin for the fourth year in 2013. Take in the beautiful scenery of 'Green Venice' as you take on the marathon, 10k run or 11k guided walk.
More info: www.maraisthon.fr/en
Travel notes
Travelling abroad for an eco-event can feel a little hypocritical, but there are plenty of options meaning you can make your journey as ecological as possible.
Train - Eurostar to Paris, cross Paris on the Metro, and then take the TGV Atlantique to La Rochelle. From here it's an hour or so drive on to the Marais Poitevin. Eurostar standard class return fares from London St. Pancras to Paris start from £69, TGV return travel fares from Paris Montparnasse to La Rochelle priced from £60. www.raileurope.co.uk
Plane - There are regular seasonal flights to and from both La Rochelle and Poitiers. Find flights and timetables at www.larochelle.aeroport.fr and www.poitiers.aeroport.fr.
Boat - A number of ferry operators have regular links with the French Channel ports, with all ports within half a day drive of Poitou-Charentes. www.aferry.co.uk
Maraisthon marathon entry - €33 with pasta party, musical entertainment and donation to the GERES Association for the carbon compensation included. www.maraisthon.fr
Hotel au Marais - Prices for a room for two people start at €80. www.hotel-aumarais.com and www.holidays-france-atlantic.com
Jessica Whittington, Sportsister
The Women's Sports Magazine
Video credit: Dominique Charles VLB Production