If life's a journey, then Stef Reid has been on one hell of a trip. The past four years alone have seen her become a bronze medal winning Paralympian, switch nationality, break three world records and battle injury to become a member of ParalympicsGB for London 2012. Sportsister's Jessica Whittington caught up with the track and field star as she heads into her next adventure.
"We are what we repeatedly do," reads the quote from Aristotle that Stef has inscribed on her prosthetic running leg. "Excellence, therefore, is not an act, but a habit." She couldn't have put it better herself.
Excellence is what the 27-year-old strives for, and if that means making a few sacrifices along the way, then so be it. Born in New Zealand to a Scottish father and an English mother, Stef moved with her family to Toronto aged four. She went on to represent Canada at the Beijing Paralympics, bagging bronze in the 200m as well as finishing fifth in the long jump. In 2010 she switched allegiance to Great Britain, which, although a difficult decision at the time, has been warranted with some impressive results.
The past two years have seen Stef, who competes in the 100m as well as the 200m and long jump, quickly become the British poster-girl for disability sport, and although some have questioned her motive for moving to GB she has remained honest about her reasons and thankful for the welcome she's received. Just don't go calling her a 'plastic-Brit'.
"I'm so incredibly grateful for the way I've been received," she tells me, "because, let's be honest, the British media can be quite brutal.
"There's been a lot of discussion about plastic Brits but I've always been really open about why I came over. I know that no one is going to believe me if I say I came over here because I'm incredibly proud to be British.
"Some have accused athletes of coming here because it's easier to qualify, but I was a world record holder so I didn't need that. People also say that it's to cash in on all the sponsorship but this is the Paralympics, we're not in it for the money. If I wanted to make money I have a degree in biochemistry so I would just have gone to medical school and become a plastic surgeon in LA. I love this, I came here because I want to be the best that I can be and I'm proud of my heritage."
Great Britain has a tradition of outstanding performance at the Paralympic Games. ParalympicsGB has finished second in the medal table at the last three summer Games, bringing 102 medals home from Beijing, 42 of them gold. For many in Britain, London 2012 may well be their first proper experience of disability sport and Stef believes this is a showcasing opportunity not to be missed, but that's not to say she's always felt this way about the Paralympics.
"Because I was disabled later in life [Stef had her right foot amputated after a boating accident as a teenager], I grew up with all the prejudices and all the expectations that people might normally have about the Paralympics," she says.
"Having the Paralympics here in Britain is brilliant because people are going to start associating disability with things like strength, confidence and beauty. I think it's going to be an amazing wake up call for everybody in Great Britain to realise that you can follow your dreams regardless."
Stef has spoken quite openly about ultimately being 'thankful' for that life-changing accident she had aged 16, with it opening her eyes to what matters in life.
"I didn't know anything about the Paralympics," she admits, "and I didn't want to give up my dream so it was really tough, but at the same time it's moments like that when you really learn who you are. To learn what matters in life as a 16-year-old is an incredible gift and it's changed who I am and the course of my life. For that I am incredibly grateful.
"Prior to being involved in the Paralympics and learning about it, this sounds awful to say, but I probably wouldn't have considered, for example, dating somebody who is in a wheelchair. But my husband [Brent Lakatos] is a wheelchair racer and I think it's absolutely amazing what he's accomplished."
However, it's not just the achievements of her husband that inspire her, but also those of her rivals. Stef explains that having the opportunity to compete against world-class athletes hammers home how far she's come.
"My top competitor across the board is a girl named Marie-Amélie Le Fur from France," she says. "She was actually a French junior running champion prior to losing her leg and I really love her story because I was never a track and field athlete before my accident.
"Having the chance to compete against someone like Marie, who was at the top of her game, reassures me that I'm not doing this because I lost my leg, I'm doing this because I'm a good athlete. I'm not just a good amputee sprinter, I'm a good sprinter, period.
"I'm so proud of the girls that I compete against because I know that they've gone through what I have to get to where they are. As much as I want to win, at the end of the day I'd be proud whichever of us stands at the top of the podium."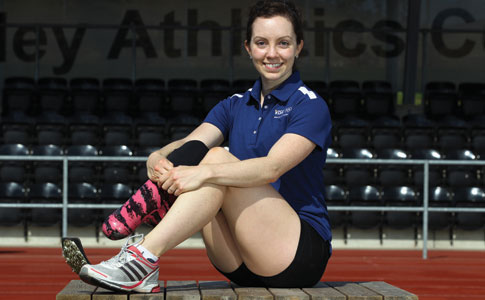 And Stef has certainly had her fair share of things to go through in order to get to where she is today. Not only does she have the pressures of living life as an elite athlete, but switching allegiance to GB means she's spent much of the past year apart from her husband Brent.
Add injury woes into the mix, and it's not been an easy couple of years. "2011 was a really tough year," she says. "I sustained a large number of stress fractures and it was really mentally draining. Although, in some ways it was good because it reminded me how much I love what I do, that I would rather be puking by the side of the track than not running."
As a result of her injuries, Stef didn't start running again until the end of January this year, which she admits is "a little bit scary." But with six years of hard training behind her, she's confident she'll get results on the day.
"I still believe that I can do better than what I've done in the past, I know it's there, I just need the right conditions to bring it out and the Paralympics are such a special opportunity. There are certain performances that you can only do in that kind of environment with that kind of adrenaline – it adds to it. It's exciting to go and see what I can do, how far I can go."
And just how far can she go? There has long been discussion over whether the Olympic and Paralympic Games work best as parallel events or whether they should be combined. With the inclusion of the South African 'Blade Runner' Oscar Pistorius, who is set to be the first double amputee runner at the Olympic Games later this year, fuelling the debate on the future of the Paralympics.
Although understanding of Oscar's position, Stef says she doesn't share the same intention. "I don't aspire to compete in the Olympics. The problem is that in many people's minds the Olympics is still the premier event. The people I compete against are incredible and I don't feel the need to prove myself by competing in the Olympics.
"Although, I do completely understand where Oscar is coming from, he is just someone who is ahead of his time. I don't think he's going because he thinks the Olympics are better, I think he's just going because he wants to compete and take on a new challenge.
"I think London 2012 is going to be a wake-up call and people are going to realise that it's apples and oranges – one isn't better than the other one, it's just two different events. If it got to the point that I was jumping six foot and I could compete at the Olympics then yeah, I might venture in, but it wouldn't be because I think it's better, I'd just be looking for a new experience."
But back to the present and her next 2012 experience. With the eyes of the world on London, what thoughts are running through her head?
"When I get into the block I do like to look at the track and say 'I own you'," she admits with a smile. And we'll be behind her all the way as she goes out there for GB, owning that track.
Jessica Whittington, Sportsister
The Women's Sports Magazine
Stef Reid will #takethestage at the London 2012 Paralympic Games adidas.com/all2012