Travel: Surfing and sistahood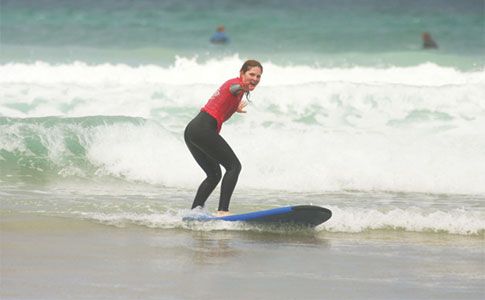 Patricia Carswell
Photo credit: Kate Czuczman (All photos)
I'm crouching on a surfboard, breathless with anticipation, as the foaming sea carries me forward, the noise of the waves roaring in my ears. Fingertips on the board, feet planted, a neat twist… and I'm up. For a few triumphant seconds I ride the surf before I am deposited on the beach, whooping and laughing, a childhood dream at last fulfilled.
This was my first experience of surfing, and it was every bit as exhilarating as I'd hoped. All my life I'd felt a twitch of envy whenever I saw surfers heading, seallike, out to sea, but I'd never plucked up the courage to try it. Body boarding is just as much fun, I persuaded myself. You look awful in a wetsuit. It'll hurt. And besides, you're too old. And so the excuses went on.
Until, that is, I discovered Surf Sistas, a company that cleverly addressed all my reservations with its Big Weekends in Cornwall, offering an appealing combination of adrenaline, relaxation and girlie frivolity. The courses are for girls only, so my fears about wrestling myself into a tight wetsuit in mixed company were instantly allayed. Better still, you stay in a beachside spa hotel complete with sauna, pool and soothing spa treatments – there's even a yoga session in the weekend's itinerary. If that wasn't tempting enough, the prospect of an über-cool Oakley goodie bag stuffed with surfing apparel sealed the deal.
That's not to say that I wasn't apprehensive as the weekend approached. Whilst the others were travelling down from London on the Big Friday surf bus, I made my own way there and it was with some trepidation that I joined the Big Friday table for breakfast on Saturday morning. What if we didn't get on? What if they were all brilliant surfers? What if they were all young, blonde and gorgeous and made me feel like an ageing frump?
I needn't have worried. Within minutes we were laughing and joking like old friends. A diverse bunch of girls, of varying ages and degrees of both fitness and surfing experience, they couldn't have been better company.
The surfing proved to be thrilling, exhausting and maddening in equal measure. There's no denying that it's hard work; you need a decent level of fitness to enjoy it properly and I was glad of all the burpees I'd done in my weekly boot camp session. It's also deceptively difficult, as I soon discovered, lurching sideways into the sea every time I came close to standing up.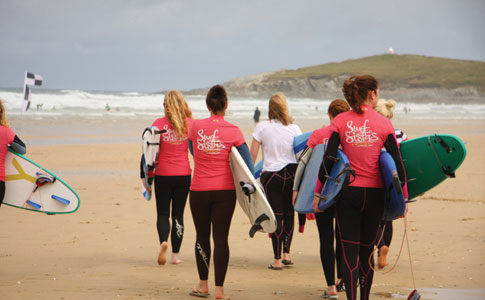 By the second session, though, something clicked and I found myself getting to my feet more often. Not for long, admittedly – there was a lot of thrashing about in the water – but enough to feel a deeply satisfying sense of achievement.
I also discovered that there's something about surfing – and it's not just the exertion – that reduces you to a state of zen-like, exhausted calm. After each lesson we sat in a beach café, slackjawed, thoroughly chilled and feeling a profound sense of wellbeing.
This was intensified by our afternoon yoga session where we stretched our frazzled bodies back into realignment. It was all we could do to stay awake until the end. The bliss continued with an aromatherapy massage at the hotel's spa. As my body was kneaded back to life, I felt ready for action again – just as well as there were cocktails and a noisy evening out in a restaurant to look forward to.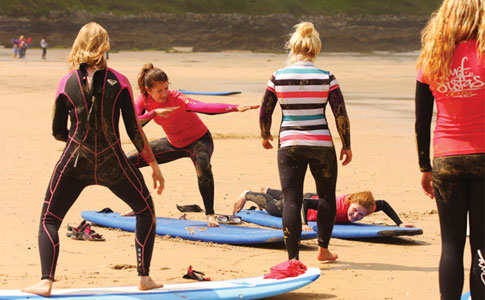 Surfing aside, though, what really made the weekend was the company of the other women. As we parted, sunkissed and freckle-faced, our muscles aching as much from laughing as from surfing, we promised to meet again on one of Surf Sistas' longer breaks. Surfing and sistahood: it's an unbeatable combination.
Travel notes
Summer 2012 weekend: September 21-23
Prices: £299 with transport or £249 without. Includes accommodation, surf tuition, board and wetsuit hire. Surf Sistas and Big Friday also organise longer surfing breaks to Morocco, France, Spain, Bali and Costa Rica.
More info: www.surfsistas.com
Patricia Carswell, Sportsister
The Women's Sports Magazine
Image credit: Kate Czuczman
Select a sport
Find out how to get started, training plans and expert advice.