Baffled by Boccia or left guessing by Goalball? No problem – check out our guide to the Paralympics and you'll be up to speed in no time!
Archery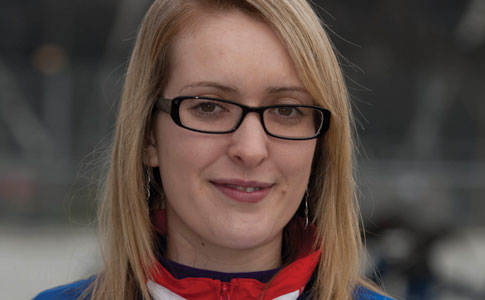 Danielle Brown
Photo credit: Onedition
The original Paralympic sport, it featured at the first Stoke Mandeville Games in 1948, the modern Paralympic Games' predecessor, and has featured on every programme since.
When: August 30 – September 5, The Royal Artillery Barracks
Who to watch: Danielle Brown – the Beijing gold medallist and three-time world champion. She also counts team gold at the Commonwealth Games among her achievements.
Athletics
The largest sport on the Paralympic calendar, over 1100 athletes will compete for 170 gold medals. High profile South African runner Oscar Pistorius is sure to grab the limelight in this flagship Paralympic sport.
When: August 31 – September 9, Olympic Stadium and The Mall
Who to watch: Shelley Woods, double medallist in Beijing; Katrina Hart, T36 200m world champion; Hannah Cockroft, double world champion (T34 100m and 200m) and T12 100m world champion Libby Clegg.
Boccia
Similar to boules or pétanque, boccia is a target sport that demands high levels of skill, concentration and the ability to hold your nerve.
When: September 2 – 8, ExCel
Who to watch: Britain are the current team champions and Zoe Robinson will once again compete for Great Britain in this event in London. Jessica Hunter, the 2011 National Champion, will be making her Paralympic debut.
Cycling – road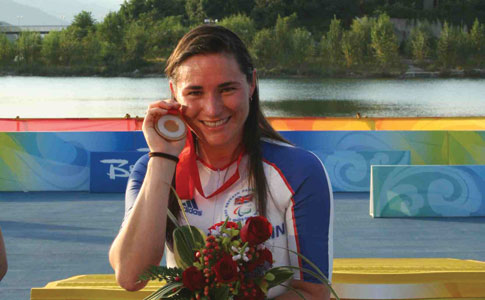 Sarah Storey
Photo credit: Barney Storey
An amazing 32 gold medals are up for grabs in road cycling across all the classifications. Expect to see four types of cycles being used: a tandem; a hand cycle; a tricycle and a bicycle.
When: September 5 – 8, Brands Hatch
Who to watch: Sarah Storey – she has 18 Paralympic golds (16 in swimming, two in cycling) and will hope to defend her Paralympic title in the time trial event. Rachel Morris will also be going for gold once more in the hand cyclist time trial event.
Cycling – track
Britain has an excellent cycling pedigree, winning 19 gold medals in Beijing, and tickets for the velodrome are sure to be hot property during the Games.
When: August 30 – September 2, Velodrome, Olympic Park
Who to watch: Sarah Storey – this exceptionally talented cyclist will also be defending her individual pursuit title. Also look out for Aileen McGlynn who will be competing at her third Games. She won two golds in Beijing and a gold and bronze in Athens.
Equestrian
Dressage is the only equestrian discipline competed in at the Paralympics. There are two kinds of dressage – a championship test with predetermined routines and a freestyle test where competitors choose their own. There is also a team event.
When: August 30 – September 4, Greenwich Park
Who to watch: Sophie Christiansen is one of GB's top riders and won double Paralympic gold and a silver in Beijing 2008. In Athens 2004 she won a bronze and was the youngest member of the GB team at just 16-years-old.
Football 5-a-side
This event is only played by men, and the 5-a-side version is for visually impaired athletes who play with a ball with a bell inside it. Only the goalkeeper can be fully sighted, the others play wearing a blackout mask to ensure fairness.
When: August 31 – September 8, Riverbank Arena, Olympic Park
Who to watch: Brazil – they won gold at the previous two Paralympics.
Football 7-a-side
Another men-only event, you can expect eight teams of athletes with cerebral palsy to compete. There's no off-side rule, throw ins are taken with one hand and each half lasts 30 minutes.
When: September 1 – 9, Riverbank Arena, Olympic Park
Who to watch: Ukraine are the reigning champions, but look out for Holland, too.
Goalball

Georgina Bullen
Photo credit: Onedition
One of the most popular Paralympic sports, it's fast, furious and involves visually impaired players (wearing blindfolds to ensure fairness) aiming to get the ball (which has a bell inside) into the opposition's net. It's one of only three sports at the Paralympic Games which has no Olympic equivalent.
When: August 30 – September 7, Copper Box, Olympic Park
Who to watch: GB are the current European champions and hopeful of a medal in London. 17-year-old Georgie Bullen is sure to be a key player in the women's team.
Judo
The ancient art of judo is the only martial art on the Paralympic programme. Expect tough and tense one-on-one battles.
When: August 30 – September 1, ExCel
Who to watch: 2010 World Championship and World Games champion Ben Quilter is GB's top hope. There won't be any female British athletes competing.
Powerlifting
The ultimate test of upper body strength, Paralympic powerlifting is a bench press competition in which athletes of various disabilities must extend their arms within 20 degrees of full extension during a lift.
When: August 30 – September 5, ExCel
Who to watch: 18-year-old Zoe Newson, the 2011 IPC Powerlifting British champion.
Rowing
Making only its second appearance at the Paralympics, athletes compete over a 1,000m course in four different boat classes.
When: August 31-September 2, Eton Dorney
Who to watch: GB won two of the four golds on offer in Beijing and will be looking to equal that again. Look out for five-time world champion Naomi Riches in the mixed cox four.
Sailing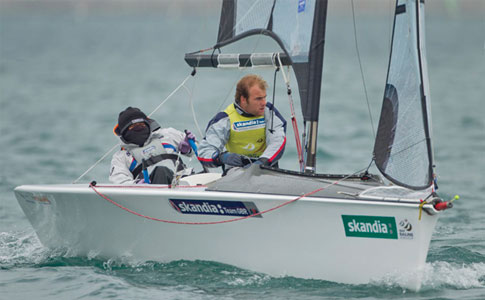 Alexandra Rickham and Niki Birrell
Photo credit: Onedition
Three events are contested – the single keelboat; two person keelboat and the three person keelboat. Each event consists of 11 races with points awarded according to position. The crew with the lowest number of points at the end is the winner.
When: September 1 – 6, Weymouth and Portland, Dorset
Who to watch: Alexandra Rickham and Niki Birrell in the SKUD 18 and Helena Lucas in the 2.4mR event.
Shooting
It's all about a steady hand in this event. Shooters stand, kneel or lay (prone position) from a 10, 25 or 50m distance. GB has won a medal in every Paralympics since shooting was first included in 1976.
When: August 30 – September 6, Royal Artillery Barracks, Woolwich
Who to watch: This will be Di Coates' eighth consecutive Paralympic Games. She will be joined by Games first-timer Georgina Callingham.
Sitting volleyball
A combination of volleyball and a German game called sitzbal, sitting volleyball demands a part of the player's body between the buttocks and the shoulders must be in contact with the court when playing or attempting to play the ball.
When: August 30 – September 8, ExCel
Who to watch: Captain Claire Harvey has over 40 caps for Great Britain. Current champions China will be the women's team to beat.
Swimming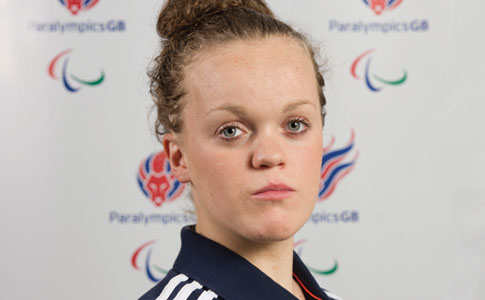 Ellie Simmonds
Photo credit: Onedition
600 swimmers will compete for almost 150 medals in one of the most popular Paralympic sports. GB finished fourth in the swim medal table in Beijing with 41 medals.
When: August 30 – September 8, Aquatics Centre, Olympic Park
Who to watch: Beijing heroine Eleanor Simmonds – she became Britain's youngest ever gold-winning Paralympian when she claimed both the 100m freestyle (S6) and the 400m freestyle (S6) in 2008. Also look out for Heather Frederiksen.
Table tennis
Expect both standing and wheelchair competitions in an event that combines speed and skill. There are 29 gold medals across all classifications to play for.
When: August 30 – September 8, ExCel
Who to watch: China are expected to dominate, as they did in Beijing. Look out for Susan Gilroy who will be representing GB in her fourth Paralympic Games. Also bronze world medallists, Jane Campbell and Sara Head, will be competing in the doubles.
Wheelchair basketball
Teams of five compete in this high octane, drama packed sport. Each player is given a rating between 1 and 4.5 depending on their functional ability, and teams must not exceed 14 points on court at any one time. Competitors can spend up to £3,500 on lightweight, responsive chairs that often only last for six months.
When: August 30 – September 8, North Greenwich Arena and Basketball Arena, Olympic Park
Who to watch: Our best chance of a medal is with the men's team who have won bronze at the last two Paralympics.
Wheelchair fencing
Three types of weapon are used – the foil; the epée and the sabre – and points are scored by hitting specific target areas. Competitor's wheelchairs are clamped to the floor in order to keep a fixed distance between them.
When: September 4 – 8, ExCel
Who to watch: Keep an eye out for 14-year-old Gabby Down who is likely to be one of the youngest competitors at the Games.
Wheelchair rugby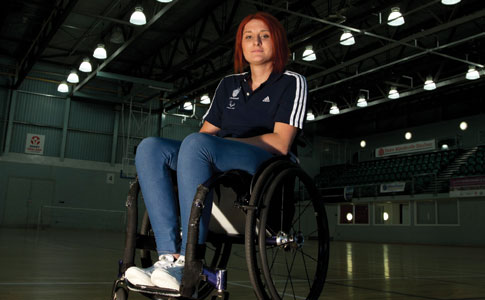 Kylie Grimes
Photo credit: Onedition
A mix of basketball, handball and ice hockey, this sport is nicknamed murderball because of its rough, combative nature. Mixed teams of 12 (four players and eight substitutions) aim to take the ball over the opponent's goal line. From when they gain possession, a team has just 40 seconds to score a goal.
When: September 5 – 9, Basketball Arena, Olympic Park
Who to watch: GB will be hoping to better their fourth place finishes in the last two Paralympics. Kylie Grimes is only the second female athlete ever to be selected to the ParalympicsGB wheelchair rugby team.
Wheelchair tennis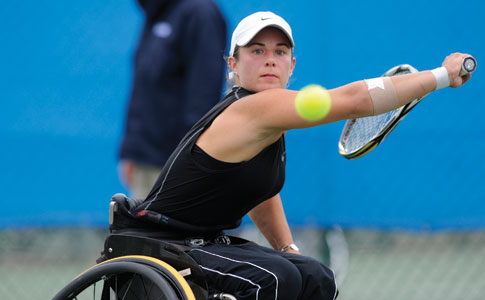 Lucy Shuker
Photo credit: Tennis Foundation
Wheelchair athletes compete in both doubles and singles matches. The ball is allowed to bounce twice, but that's the only rule change from Olympic tennis.
When: September 1 – 8, Eton Manor, Olympic Park
Who to watch: Lucy Shuker is Britain's top ranked singles player – but she'll need to beat Dutch star Esther Vergeer whose 450 match unbeaten run stretches back to 2003. She will also compete in the doubles with Jordanne Whiley.
Sportsister
The Women's Sports Magazine