Wild swimming is the traditional art of swimming in natural bathing pools, such as rivers, lakes and waterfalls, and France, which has them in abundance, is the wild swimmer's paradise.
With some of the most beautiful and diverse landscapes, as well as the cleanest waters in Europe, taking a dip is the essential way to stay cool in summer, and the highlight of any French holiday.
Not wanting Sportsisters to miss out on the action, we asked Daniel Start, author of 'Wild Swimming France' to share the hidden gems of Alpes-Maritimes in the heart of the French Riviera.
Discover Alpes-Maritimes
In the mountains behind bustling Nice are some of the most spectacular canyons in France. If you are careful and take a few basic precautions, these amazing and challenging environments are great fun to swim and explore.
In places the rivers have eroded deep channels into the rock creating narrow slot canyons known as 'clues'. Perhaps the most dramatic in the area is Clue d'Aiglun off the Route des Crêtes. Here, the Esteron river has cut a great silvery cleft in the mountains and emerges in a string of jade pools and white rock ledges.
These are perfect for plunging and sunbathing, but continue upstream into the heart of the narrow clue itself and you will find yourself in the bowels of the mountain. Here, blue water gushes and thunders around and shafts of light filter down from the high roof above.
As the water deepens and churns, you can almost imagine how Jonah must have felt as he climbed through the ribbed channels and cavities of the Great Whale. This is a very aquatic experience.
The Alpes-Maritimes department was originally colonized by the Romans in 14BC and has been in and out of Italian rule over the centuries. You will need to cross into Italy at Fanghetto (pictured above) to access France's most southeasterly canyon on the Audin – a beautiful stream with a series of tourmaline basins overhung with verdant foliage, deep in a cleft of the mountainside.
Similarly beautiful plunge pools can be found around the pretty villages of Sospel, Lucéram and Coaraze above Monte-Carlo, in the ravines of Cuos, Planfae and Redebraus.
Clue d'Aiglun
The most impressive of the Nice clues. Here, the Esteron has sliced a white slot canyon with great marble pools through the centre of the mountains. Many opportunities for swimming, including an exploration of the chasm.
From the fortified village of Sigale, Aiglun (pictured above) is 7km west. Park in the village, find the canyoning signboard, and follow the canyon return path for 1km down to a series of pools, about 200m upstream of the road bridge. From here adventurers will find the clue itself, starting 300m upstream.
There are narrow enclosures and incredible rock formations and you can swim about 200m into its heart. The river is also accessible directly via a narrow path from the road bridge, 1.5km beneath the village, and there are pools beneath the bridge, too.
30 Ruisseau de Planfaé
A series of spectacular, tufa-lined waterfalls and pools in a remote, wooded and mountainous area.
About 7km north of pretty mountainside village Coaraze and 800m after turning for L'Engarvin, find bridge over Paillon de Contes. Park, descend to river's right bank and follow riverbed 10 mins to the first small pool and water fall. A further 300m of falls and pools follow. Reach the best by climbing a little way above the stream to the right. There are more pools and falls downstream.
Gorge de Cuous (pictured above): continue another 11km then turn right and continue 5km to the flat plateau below Col de l'Orme. 150m before the bend follow signed footpath on the left 30 mins to Pont de Suglet. 150m downstream you will find a pretty plunge pool and flat rocks above a high waterfall. The gorge below is accessible by bushwacking down to the right.
Ravine de Redebraus: descend 16.5km, through Lucéram. Turn left and ascend to Touët-de-l'Escarène. At north end of village, by village sign, take gravel footpath on right 5-10min to bridge. Continue on path upstream, beyond green fence, to find pretty pools and falls on left within 10 mins. Popular with families.
Fanghetto
Pools and flat rocks on the Roya below Roman bridge. A pleasant walk leads to well-hidden Audin gorges featuring deep pots filled with aquamarine water, overhung with tropical foliage.
The bridge at Fanghetto marks the Italian-French border, accessed Breil-sur-Roya or north off A10 at Ventimiglia in Italy. Park at bridge and descend on right bank to rocks and pool beside bridge.
Ruisseau d'Audin (pictured above):  continue up road (dir Fanghetto) and after three bends find footpath to left by chapel (yellow waymarks, dir Briel-sur-Roya; Sentier Valléen/Via Libri). After 500m bear left (dir Breil) and 200m before the stone footbridge take left path with steep descent to stream. Follow it upstream to aqueduct, continuing another 300m to first of many pools
Gorge de Carleva (pictured above) has several pools and forms a magnificent junction pool with the Roya. On entering Breil-sur-Roya from south by road, turn right immediately after bridge and follow pedestrian street (Rue de la Place Rousse) 200m until the road becomes an old walled footpath to Chapel St-Antoine (yellow waymarks). Continue another 1km downstream above the Roya (interesting river caves below) bearing right at each junction (dir Hameaux de Libre/Fanghetto) until you reach a stone bridge. Find small aquamarine pools upstream or head down 200m to junction pool on the Roya, blighted somewhat by view of aqueduct pipe…
In this dazzling new travel guide for families and adventurers alike, Daniel lures you off the beaten track to over 400 magical swimming locations. But don't just take our word for it – why not plan your next holiday in France and discover it for yourself?
Sophia Smith, Sportsister
The Women's Sports Magazine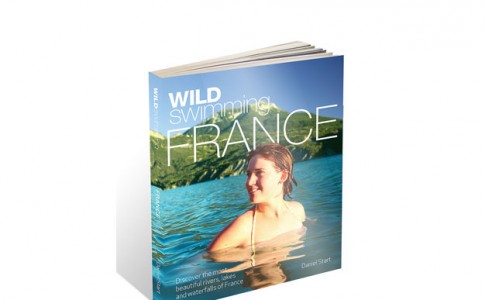 Wild Swimming France is priced at £14.95 and can be purchased online at www.wildswimming.co.uk or at all good bookshops.