Team GB's sailors are still in the medal hunt after strong performances on Wednesday, in difficult conditions at Weymouth and Portland.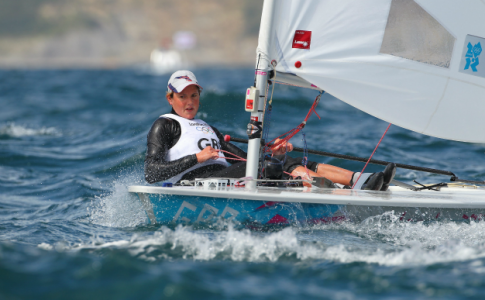 Alison Young (pictured) consolidated fourth position in the women's Radial Laser as she notched up a second in the first race and then 11th in the final race of the day in what were tricky racing conditions, leaving her four points from the Dutch sailor; Marit Bouwmeester, in third.
"It was pretty shifty out there. All the races were tough, but you have to do the best you can and keep moving on. There is plenty of space to move forward, so I just need to get on with the racing." said Young.
Beijiing bronze medallist, Bryony Shaw also had a reassuring day in the RS:X windsurfing, finishing fourth and ninth to leave her sixth in the standings after four races.
Shaw has recovered well after capsizing in the choppy waters of the Dorset sea on Tuesday resulting in a seventh position.
And in the women's Elliott 6 metre, the Great Britain crew of Kate and Lucy MacGregor and Annie Lush are fifth in the round robin after eight matches.
In the men's classes Paul Goodsin fought through, despite a back injury, to sixth place in the Laser class and in the RS:X windsurfing, Nick Dempsey cut Dorian Van Rijsselberg lead to just 12 points.
Stevie Morrison and Ben Rhodes recovered from a disastrous capsize in Tuesday's final race to remain in medal contention with ten races left after finishing in fourth and second in their two races.
Sportsister
The Women's Sports Magazine
Image credit: Richard Langdon/RYA