Prior to my first intro session at CrossFit Bath last week my only experiences of CrossFit were as a spectator at The SICFIT London Throwdown and in a trial at CrossFit Thames, so I had an idea of what to expect, but putting it into action was another matter!
First up I had a tour of the 'box', CrossFit Bath's training area. It's here that a selection of slightly serious looking pieces of equipment can be found, and where I'll be spending a session a week over the next few months.
It was down to box co-owner Adam to put me through my paces for my first hour, so after signing my life away he talked me through how the session would work and how this would prepare me for the WOD classes.
I can't wait to get started – the whole idea of such a varied programme really appeals to me. Not only do I know it to be a really effective way to train, but I also get bored easily, so the idea of mixing movements in a different workout for each day really appeals.
My first session saw Adam talk me through squats, press ups and body rows ahead of undertaking my baseline WOD – this will measure how I improve through the introduction course.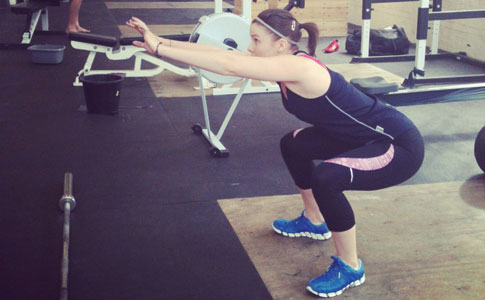 Before I did the session I thought I knew how to squat… turns out my version was a feeble attempt at the real thing! Loosening my hips (ouch!) seemed to help, and then it was on to the WOD…
Seven minutes, five seconds and 45 squats, 45 press ups, 45 body rows and 800m later and my first WOD was in the bag. It felt good, there was a positive atmosphere in the box and it was great having Adam's support to push me.
Introduction courses are normally held over four weeks, with two sessions per week. Unfortunately work commitments mean I'm only able to make it to the box once a week, so am unable to do this course, which is a shame because I could feel a real sense of team spirit amongst the other CrossFitters completing their own WOD session. However it's great knowing I've got that to look forward to.
So, WOD complete and conversation turns to nutrition… I know what's coming. CrossFit and the paleo diet (or 'caveman' diet) seem to go hand in hand. At this stage I don't know a great deal about it and have been encouraged by Adam not to do any research just yet. He wants me to keep a food diary until we meet again next week, so he can persuade me to give paleo a go… As I've mentioned before, I'm always game for a challenge, but one that banishes cake?! That I'm not so sure about!
Homework set, I head home. Until next week…!