Trying new things can be daunting, we understand that. So you hit the gym, repeat the same programme you took up months ago, and then wonder why you don't see results. Sound familiar?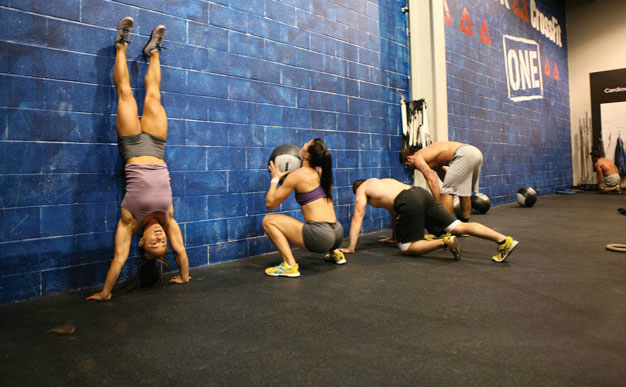 Try CrossFit as a a sport to shake up the routine. It combines a wide variety of functional movements into a timed or scored workout and will work parts of your body you didn't even know existed.
In short, it's constantly varied high intensity functional movement, and it's hard work. But hard work gets results. Sportsister's Jessica Whittington, with the help of the world's fourth fittest female, Sam Briggs, explores this 'sport of fitness'.
What's it all about?
Founded by former gymnast Greg Glassman in 2000, CrossFit combines three components; weightlifting, gymnastics and metabolic conditioning. Although it might sound a little intimidating, that couldn't be further from the truth. CrossFit doesn't just combine things like push-ups, ring dips, squats, sprinting and sit ups (we could go on) – it combines them in a truly supportive environment.
Plus, CrossFit is designed for universal scalability, meaning that everyone from elite sport stars to your grandparents can get involved. Whilst the load and intensity might change, the programme won't.
"Every functional exercise contains an essential bit of human capacity," Sam tells us. "Due to strength or injury, often a particular exercise is not immediately possible. This is where scaling or substituting movements comes into play."
The basics
Crossfit.com is the online home of CrossFit and it's here that you'll find a WOD (that's Workout Of the Day) posted daily. Whether you choose to go at it alone or join an affiliated gym (more on that later) the WOD stays the same, but it can be scaled to suit your capabilities.
WODs can include anything from a 400 metre run, 15 1.5 pood Kettlebell swings and 12 pull-ups (the 'Helen') to 5 handstand push-ups, 10 one-legged squats and 15 pull-ups (the 'Mary'), and are designed with variety in mind. Very rarely will you do the same WOD twice, unless it's one of the 'Girls' – these are 'benchmark' workouts and sometimes reappear to help you track your progress, such as those listed above. Also expect to see 'Hero' WODs. These are some of the more intense workouts and are named after fallen military personnel.
Although variety is key here, there is one constant – each WOD is designed to take no longer than 15 minutes. Not long, you might think. But that's a maximum effort filled 15 minutes and after that time you shouldn't have any power left in the tank.
Getting started
CrossFit used to be seen as quite an underground movement, but since Reebok has come on to the scene and affiliated Boxes (that's gyms to you and I) across the country, ever increasing numbers are getting involved.
If you're completely new to CrossFit we'd recommend joining an affiliated gym to learn the ropes. Reebok list independently-owned CrossFit affiliates online at reebok.com – join one of these and you'll find all the equipment you need as well as hands-on training. Prices vary but tend to be flexible with a variety of membership packages on offer.
Classes usually last an hour and will see the trainer take you through the elements involved in the WOD before you get down to business.
What are the benefits?
"CrossFit is a program geared to prepare the body for better fitness by not focusing on any one activity," says Sam. "Rather, CrossFit wants the body prepared for any and all activities or sports. A regular mixture of activities are designed to activate and strengthen various core and major muscle groups."
But, if an improved state of fitness isn't enough, then the CrossFit community might be. CrossFit is as much a lifestyle as it is a strength and conditioning programme, with the tight-knit CrossFit community a hugely important factor. Why not get involved and see for yourself?
Want to find out more?
Know your AMRAP from your WOD? A CrossFit glossary
AMRAP: As Many Reps (sometimes Rounds) As Possible
Box: A gym, industrial unit or garage used for training
Rep: Repetition of an exercise
Rx'd: As prescribed or as written. A WOD done without any adjustments
Set: The number of repetitions undertaken at one time
Subbed: Substituted
WOD: Workout Of the Day
CrossFit kit
If you join a Box then you shouldn't need any equipment. You can wear your regular gym kit, though there are a few items that are recommended:
Shoes – The part of CrossFit clothing that is most unique to the sport. Zero heel to toe drop is ideal to make the shoe as natural as possible. Try the Inov8 Bare-XF 210 -£100 www.inov-8.com
Top – The more fitted the better so it doesn't get in the way of you working out. We love the CrossFit Performance Tank -£40 shop.reebok.com/GB/shop
Shorts – Lycra bottoms or those made of breathable fabric offering a range of motion are best. Try the Nike Limiteless Capri - £38 www.sheactive.co.uk
Socks – Long socks are great for rope climbs and for protecting the legs during movements such as deadlifts. Perfect for this is the CrossFit Women's Diamond Sock - £11 shop.reebok.com/GB/shop
Sam Briggs' top CrossFit tips
Sam took up CrossFit in 2009 and has gone on to become fourth fittest woman, finishing fourth in the 2011 Reebok CrossFit Games in California. So who better to give us some beginner's tips.
1. Don't be too proud to scale.
2. What you eat is as important as what you lift.
3. Have fun.
4. Make goals.
5. Rest and recovery is key!
Why I love CrossFit:
"The variety of movements and skills to learn means I always have something to work on, the group training environment keeps me constantly motivated and the never ending combinations of workouts ensures I never get bored.
"One of the best aspects of CrossFit is the passion of those who teach it. I hope to capture this essence and share my experiences of CrossFit through the opening of my own affiliate, CrossFit Black Five, at TRAIN Manchester where I am a co-owner and one of the head coaches." www.trainmanchester.co.uk/
Jessica Whittington, Sportsister
The Women's Sports Magazine
Image credit: Reebok