London 2012: Bluffer's guide to basketball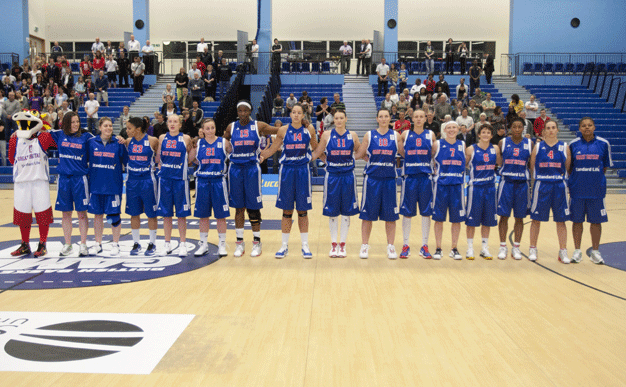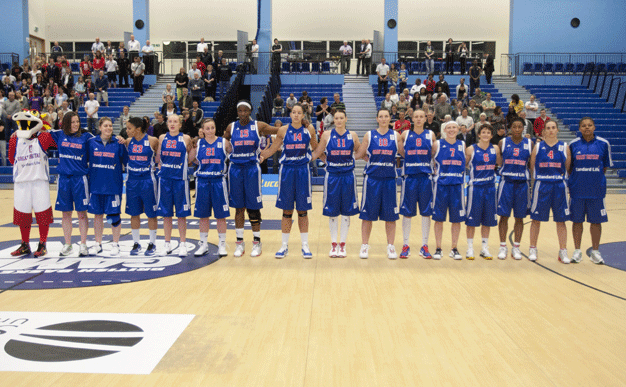 History will be made at this year's Olympics as Great Britain sends a women's team for the first time.
GB have been grouped with Olympic Silver medallists Australia and European champions Russia for the group stages of the women's tournament, so expect a tough on-court battle from start to finish.
Venue: Basketball Arena, Olympic Park and North Greenwich Arena.
Date: July 28 – August 11
Jargon buster
Assist: a pass that directly leads to a teammate scoring a basket.
Lay-up: A close range one-handed shot from off the backboard.
Shot clock: A timer which measures the amount of time since the last shot. The ball must touch the rim or pass through the net within 24 seconds otherwise possession goes to the opposition.
Slam dunk: A slam shot directly into the net.
Time-out: If the coach makes a T-sign with his hands play is stopped for one minute so he can hold a team talk. 
Basic rules
Twelve teams will compete in the women's competition, with 12 athletes (five players and seven substitutes) on each team.
Points are scored by shooting the ball into your opponents' net (or basket). The ball must be moved up the court by dribbling or passing it to another team member and no more than two steps can be taken by a player with the ball without them dribbling it.
Two points are awarded for a regular shot from open play, with one point for each successful free throw (following an opposition infringement) and three points for a shot from distance (beyond the three-point line).
Competition will begin with a preliminary stage before the 12 teams are divided into two groups of six with each team playing every other in their group. The top four teams from each group qualify for the knockout stage, where the winners of the semi-finals will go head-to-head for the gold medal.
One to watch
GB's Jo Leedham and team captain Julie Page have shone on court in recent years, with Leedham the star forward who averaged 12 points per game in last year's EuroBasket.
Olympic rivalry: Reigning world and Olympic champions USA will be the team to beat.
Who to follow on twitter…
Basketball Olympic fact
The London 2012 basketball competition will see an incredible 600 basketballs used.
Sportsister,
The Women's Sports Magazine
Select a sport
Find out how to get started, training plans and expert advice.