I remember being about 12 years old and going to a clothes shop on the high street with my mother and that being the moment I had to make the unwilling leap to adult clothes. I finally stopped growing when I was about 21 years old, when I'd hit 5ft 11 and a dress size 14.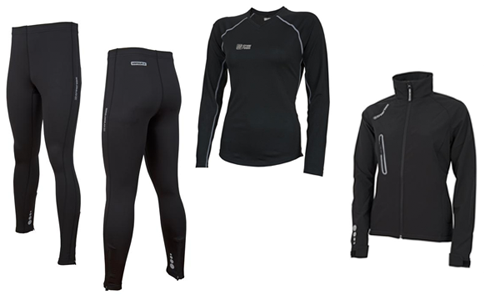 My size has 'blighted' me ever since, more so recently when trying to find sports kit to fit me – sure I can wear ¾ leggings or shorts but tops, jackets and the such are just a nightmare. Sleeves are never long enough and tops rarely go below my belly button – a real problem when you're sporting a less than toned middle.
I was given the opportunity to test out some kit made by Crewroom which is a sports clothing manufacturer set up by the 6ft 3 British rower Kate Giles – sounds positive already doesn't it! I tested out three pieces – the Vapour-X mid-weight bodyshell leggings, the Vapour-X microlight long sleeved top and the women's softshell jacket. I really put them through their paces too because I like kit to be multi-function so I not only tested them on a run but I also tried them out on a mountain bike ride.
So how did they get on?
Mid-weight leggings
Good points:
- Flat seams reduced rubbing when I got caught in a downpour
- Calf zips made them a doddle to pull on and off
- Despite being mid-weight they feel light and comfortable
Bad points:
- No bum pocket meant I had nowhere to stash my car key
Microlight top
Good points:
- Incredibly lightweight
- Soft as a baby's bottom to wear (I hate the scratchy feel of polyester)
- Very visible – plenty of reflective logos
- Nice long sleeves
Bad points:
- Barely skimmed my belly button when running, very disappointing body length
Softshell jacket
Good points:   
- Fantastic long sleeves
- Great length – plenty long enough for me!
- Adjustable hip zips – this was particularly handy for on the bike as it just gave me extra wiggle room
- LOADS of pockets to stash gadgets and essentials
- Extra sewn-in 'fingerless gloves' with thumb holes – excellent for riding so the sleeves don't ride up
Bad points:   
- None, I can honestly say this jacket is perfect
On the whole I was very impressed with the Crewroom kit. The length of the technical top was disappointing and so my search for an extra long top continues, but the jacket and leggings are superb. This is the kind of kit I'm happy to invest in.
Oh, but I haven't even mentioned the best part yet. Crewroom have developed their own technical fabric called Vapour-X. It's a mix of polyester and bamboo charcoal which creates a fabric with all the usual wicking properties of polyester but has the added benefits of the softness of bamboo, the antibacterial properties of bamboo and, well, bamboo is a very sustainable product. I admit to being a bit of an unintentional eco-warrior with my fabrics – I'm rarely found in anything except merino wool but this Vapour-X fabric is amazing, it makes an excellent mid-point between traditional polyester and natural fibres.
Want to give it a go for yourself? See www.crewroom.biz.